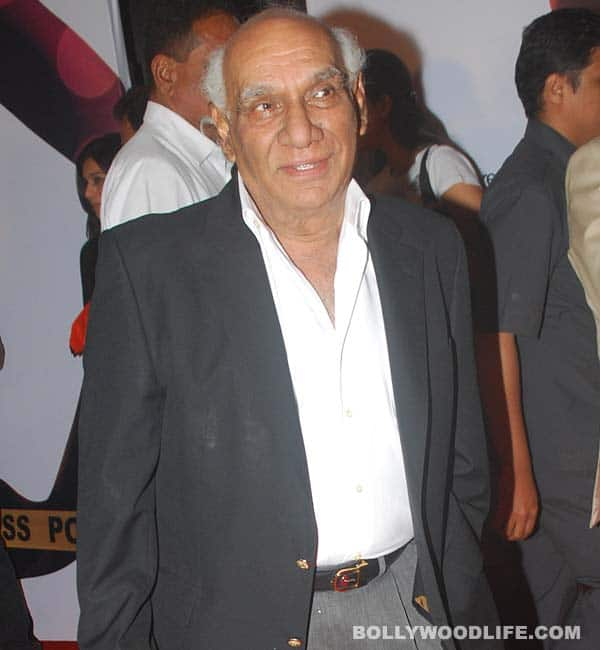 All of Bollywood and millions of fans of the veteran director from different parts of the country and the world were shocked at the passing away of their favourite filmmaker, Yash Chopra, who died yesterday after multiple organ failure following dengue at Mumbai's Lilavati Hospital.
Yash Raj Chopra was the youngest of eight children. He lived a happy-go-lucky life till his father commanded him to study engineering in England, but the young man had other aspirations so came to Bombay to be with his brother, Baldev Raj Chopra (later known as BR Chopra). Young Yash spent most of his time watching his brother making films and slowly caught the bug; he decided that he would also be a filmmaker, come what may. He asked his big brother if he could work as his assistant; BR Chopra saw his younger brother's passion and took him on.
Life took a dramatic turn for Yash when Baldev decided to give him his first break as a director with Dhool Ka Phool, starring Rajendra Kumar and Nanda. BR was impressed with the outcome and gave Yash his second chance – to direct Dharamputra, a sensitive story about the clash between Hindus and Muslims, starring Shashi Kapoor.
Yash then did what no director his age could or had. He directed Waqt, starring Balraj Sahni, Raaj Kumar, Sunil Dutt and Shashi Kapoor – the film, Hindi cinema's first multi-starrer success, created broke all box office records and became a Golden Jubilee hit.
This opened the doors to Yash Chopra – producers were willing to pay any price to have him direct films for them, but he was very loyal to his brother. His next film was Aadmi Aur Insaan another socially relevant subject about the conflict between man and machine, starring Dharmendra, Feroz Khan and Mumtaz. It was followed by another hit film called Ittefaq starring Rajesh Khanna and Nanda. Yash directed Joshila for producer Gulshan Rai with Dev Anand and Hema Malini, which was his first flop. But Nanda didn't lose faith in Yash and signed him on to make Deewar with Amitabh Bachchan, Shashi Kapoor, Parveen Babi and Neetu Singh. This was the first time Yash teamed up with the terrific writer duo Salim-Javed for two films – Deewar and Trishul. And the rest is history.
Yash Chopra launched Yash Raj Films with Daag, starring a young man called Rajesh Khanna. The film had brilliant music that helped it become a big box-office hit, establishing Yash Raj Films as a banner and Khanna as a star.
Romance was Chopra's strong point, and once he started his own production house he had the scope to explore various shades of love in one big romantic film after another – Kabhi Kabhie, Silsila, Lamhe, Chandni, Dil To Pagal Hai, Veer Zaara and his last film, Jab Tak Hai Jaan. But not all his movies did fabulously well. Chopra had his own list of films which fared badly – his biggest disappointment was Mashaal, starring Dilip Kumar, Waheeda Rehman and Amrish Puri and a still-struggling young actor named Anil Kapoor. Another big disaster was Vijay starring Rishi Kapoor and Anil Kapoor, as was Faasle with his best friend Sunil Dutt.
Some time in the 90s Chopra decided to hand over most major decisions of his production house to his son Aditya, which resulted in one of the top ten highest grossers of all time – Dilwale Dulhania Le Jayenge – and later Mohabbatein. And over the last few months Aditya had been busy as his father's lieutenant during the making of Jab Tak Hai Jaan.
Yash Chopra, Shahrukh Khan, Katrina Kaif and the team of Jab Tak Hai Jaan were supposed to leave for Switzerland to finish the last shooting schedule of the film. But just two days before departure Chopra complained of restlessness and weakness and had to be rushed to the hospital. His death is indeed a great loss to Bollywood and romantic film lovers. BollywoodLife bids the master filmmaker farewell. May his soul rest in peace. Our heartfelt condolences to the Chopra family.