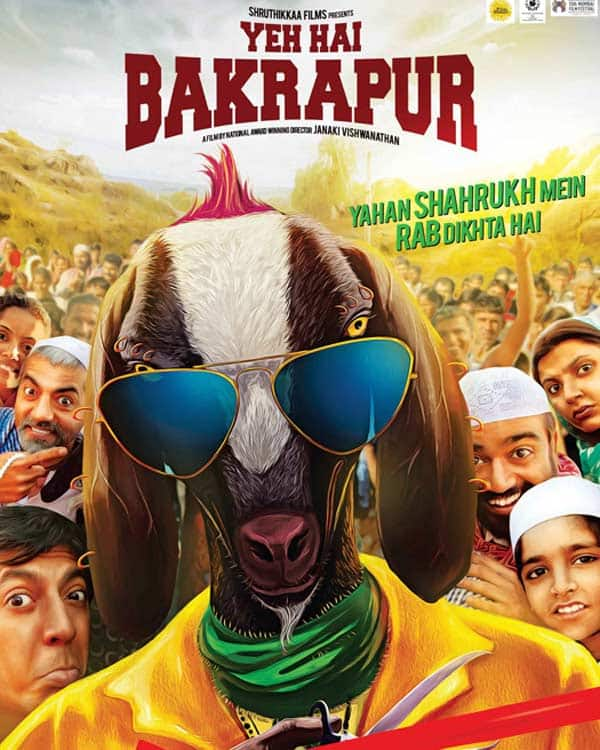 This is definitely a breather from his big budget Bollywood masala entertainers
Shahrukh Khan might be doing Farah Khan's upcoming film, Happy New Year, but another female director by the name of Janaki Vishwanathan has also roped in Shahrukh, which happens to be a goat. Yes, it's the goat, who plays the protagonist in National award-winning filmmaker Janaki's film, Yeh Hai Bakrapur. So is this superstar goat lucky for her? Well, to a certain extent, yes. This film is a breather from regular mega budget, multi-starrer films, we have to admit. Having said that, you might not have a rib-tickling laughter while watching this movie, but you will certainly have a smile on your face at the end.
Set in the rural India, Yeh Hai Bakrapur is the story about a Muslim family and Shahrukh (the goat), who suddenly acquires a divine status in the village. From being a normal pet goat, Shahrukh goes on to become the talk of the entire nation, for no fault of its. Talk of the goat's resemblance with King Khan, it is even offered brand endorsements by the advertising agencies. As the tagline rightly says, "Yahaan Shahrukh mein rab dikhta hai."
This satire set against the backdrop of a backward India, will keep you hooked to your seats right until the end. All we can say is that the world of Yeh Hai Bakrapur is fresh with fun, though not intentionally.
Coming to the performances, Anshuman Jha, who plays a hair stylist in the movie has done a stellar job. That apart, each and every actor in the movie blends perfectly into their character. A special mention to theatre actor Suruchi Aulakh, who is way ahead of the others. Abinandhan Ramanujam, who is the cinematographer deserves a pat on his back for those lovely camera angles. Agnee does a fantastic job at conjuring a melodious album, but when it comes to lyrics, you will either find it entertaining or trying too hard to be different.
Yeh Hai Bakrapur in a nutshell is about blind faith, poverty and religious hypocrisy that exists in rural parts of our nation. So if you are fan of social satires, you surely shouldn't miss this one. As for the others, you won't regret watching this movie as well.
Rating:
out of 5
Reviewed by Vinod Talreja
* Poor
** Average
*** Good
**** Very good
***** Excellent