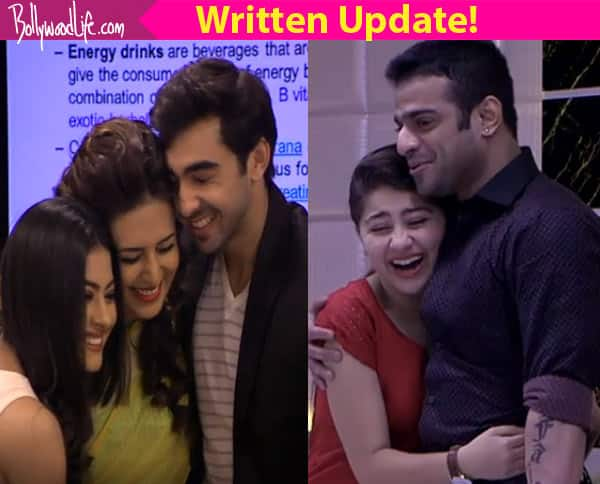 Aadi (Abhishek Verma) sees Pihu (Ruhanika Dhawan) crying. He puts cold water on her hands. Pati asks her to calm down and applies cream. Pihu cries and says she doesn't want to apply cream and asks where is her mother. Shagun (Anita Hassanandani) comes and asks her to stop crying and promises her that she will never leave her alone. Alia (Krishna Mukherjee) gives presents to everyone. Raman (Karan Patel) sees from distance. Aalia asks Raman how is the saaree she has brought for Ishita. He says perfect. Ishita (Divyanka Tripathi) gets surprised that he talked to her so properly. Aalia takes dress for Raman also. Raman says he won't come for the pooja. Ishita asks why. Raman hesitantly says that he can't come as Mani will also be there. Aalia tells him that Mani is not coming so he can come. Raman agrees.
Mani sees Pihu's wound and asks her what happened. Shagun says it's her fault. She should have have been at home. Pati says she will have to devote full time for her. Pati says if Aadi would not have been there then anything could have happned to Pihu. Pati scolds Pihu also for nit listening to her instructions. Sahgun shows what she has bought for her for the pooja. Aadi gives a present to Mani and asks him to come for the pooja. He says he wants to avoid Raman. Aadi says he won't be there and convinces him to come. Everyone goes to change. Shagun asks Aadi not to tell Raman and Ishita about Pihu's incident.
Raman comes out dressed and praises Ishita. He makes her wear gajra and hugs her. Ruhi comes inside and gets embarassed seeing them. Raman says she is looking so pretty. Aaliya also enters. He says his daughters are looking so good in full clothes.
Aadi struggles to wear Dhoti. Mani helps her. Shagun comes out with Pihu. Pati puts gajra on her and tells her that now she is looking like a complete south Indian. Aadi comes. Pati tells Aadi that today she will announce that she has chosen Aadi fro Aaliya. She asks her not to tell anyone.
Bala tells Bandhu that he is feeling ancious for the new project. Bandhu asks her to stay strong. Mani's family enters. Chitti praises Aadi and says he is looking like a perfect Tamilian. She asks if he is looking for Aaliya. Ishita also enters with Aaliya. They meet. Chitti interrupts and asks them to come inside.
Mani and Raman come in front of each other. Raman asks Chitti why didn't she tell him earlier that Mani is going to come. Aaliya comes and reminds him that Ishita has BP problem. Raman says "it's nice to meet you". Mani says "likewise".
Bala calls Bandhu and tells her that pandit can't come. Shagun asks Pihu to cover her wound with her saree. Ananya praises Pihu and her saree. they both play. Ishita and Aaliya see them playing from a distance. Mr. Iyer comes and meets Pihu. Shagun gets worried that Mrs. Iyer will see her wound.
Pati ask about Pandit. Adi and Aaliya say that they will manage without pandit with Internet's help. Pati say they are not pandit and it will be against their traditions. Adi and Aaliya say that heart should be clean. Ishita supports them and ask them to begin the pooja. They smile. Also Read: Yeh Hai Mohabbatein full episode, 18th October 2016, written update