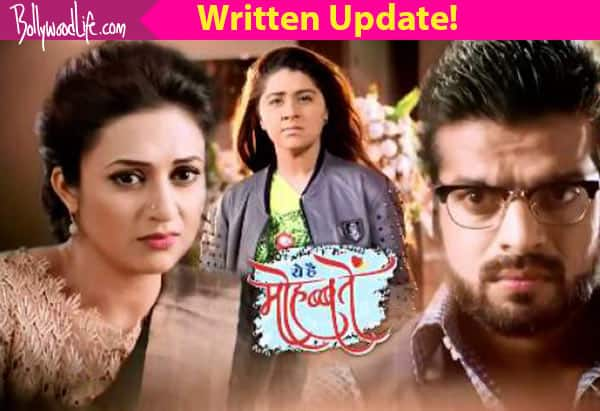 Ishita (Divyanka Tripathi) and Raman (Karan Patel) enter the party. Raman and Ishita ask where is Pihu (Ruhanika Dhawan). Pihu enters with Shagun (Anita Hassanandani). She sees Ishita and Raman. Raman picks her up and plays with her. Pihu tells her that he looks like her father. Party begins. Kids play musical chair. Raman signals, Ishita stops the music just when Pihu was about to sit on the chair. Pihu wins. She dances with Ishita. She gives gifts to her. Pihu hugs her. Ishita gets happy.
At the hospital, Ruhi asks Aaliya to go inside with Aadi as she won't be able to accompany them. Aadi asks what's the matter. She lies and says she has some work and leaves. Psychiatrist helps Aadi recollect all that happened on that day. Doctor asks whom did he see. Aadi says he didn't see anything and goes to the washroom. He washes his face, recollects what he saw and decides he won't tell anyone.
Santoshi and Amma enter the party dressed as Santa Claus and Rabbit. They meet Ishita and Raman. Santoshi goes and hugs Pihu and gives her gifts. Amma also hugs and kisses her. Guests discuss that why are the entertainers only playing with Pihu and not with the birthday boy. They go and tell birthday boy's mother that she has been fooled. She tells them that they are not entertainers, they are Mr. and Mrs. Bhalla who have come to meet Pihu.
Aaliya asks if Aadi is hiding something. He says no he just tired. He decides not to tell anyone but then gets scared thinking what if someone else gets to know it. He calls the person.
Shagun thinks why is everyone giving Pihu all the attention. She gets up to check who these entertainer are. But, parents stop her. A parent asks them to leave. Shagun fails to meet them.
Also Read : Yeh Hai Mohabbatein full episode 21st September 2016 written update