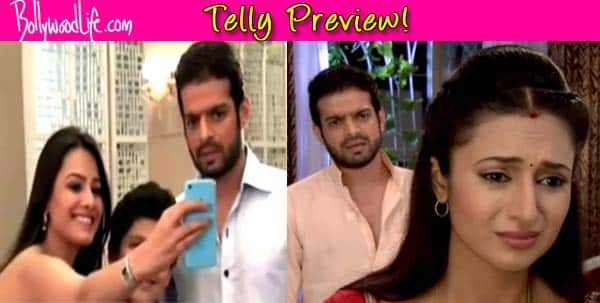 Raman has shut the doors to truth, but it has found a way through the window
Ishita's (Divyanka Tripathi) faith in Raman (Karan Patel) will soon be shattered when she finds the truth about Shagun (Anita Hassanandani) and her husband. Despite Shagun's lover Ashok alleging that something was cooking between Raman and Shagun, Ishita didn't trut him. She didn't even believe her sister Mihika, when she pointed fingers at Raman in Mrs Iyer's hit-and-run case. However, all that will change now. 
Last we saw how Ishita strongly disagrees with Mihika, who insists that Raman and his lawyer are trying to get rid of footage of Mrs Iyer's accident. While the two sisters fight and soon make up and come to a common conclusion about how Raman would never do something like that, here's what will unfold in tonight's episode.
Ashok is upset about his girlfriend Shagun's behaviour. And Parmeet ensures that he adds fuel to the fire, telling Ashok how Shagun is having a ball of a time with her ex-husband and kids.
At the picnic it's evident that both Ruhi and Raman are missing Ishita. While Adi decides to take to the pool with dad, Ruhi decides to ruin Shagun's plans and starts to complain of a stomach ache. Seeing Ruhi in pain, Raman asks Shagun to stay back in the room to look after her. Shagun is upset that her plan is falling apart, however knows best to stay indoors and take care of Ruhi just to impress Raman.
Ashok decides to reveal Shagun's secret to Ishita. He tells Ishita that Raman and Shagun are up to something. To which Ishita angrily responds that the to are just out with thei kids. However, Ashok goes on to say how Raman is trying to destroy the footage of her mother's accident to protect Shagun, who's the real culprit. Ishita is shocked to hearing this allegation, however she's still not ready to believe him.
Ashok challenges her faith in her husband and asks her to meet Raman to find the truth. Ishita doesn't want to go but Mihika insists on checking this with Raman, just so that Ashok can be proven wrong.
In the hotel room Shagun is trying her level best to put Ruhi to sleep, while Raman is happy spending time with Adi. Ishita and Ashok reach the picnic spot and surprise Shagun and Raman. Ishita then asks Raman if it is true that he's protecting Shagun? Raman is shocked and he doesn't have an answer to her question. Ishita reads Raman's silence and realises that whatever Ashok said was indeed the truth.
A shattered Ishita takes Ruhi with her and leaves, Shagun too leaves with Adi. Will Ishita and her family now break all ties with Raman and fight against him and Shagun? Watch this space for all updates on Yeh Hai Mohabbatein…