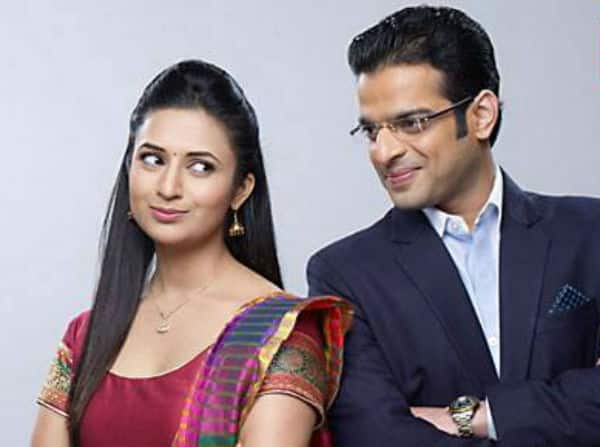 Pyar, ishq and mohabbat is in the air in the Bhalla house
Ishita (Divyanka Tripathi) and Raman (Karan Patel) are definitely in the initial phase of love. Their understanding of each others situation and concern for each other is not enough, it seems like cupid has hit the two. And finally bringing up the topic of love is non other than Mr Raman. Not only is he impressed with Ishita's maturity and genuineness, but he seem to be getting used to her more and more. So, were we taken aback when Raman asked Ishita if she's falling in love with him?
Not only did Raman leave Ishita baffled with talks of love, but we're sure the audience too was surprised. But, trust Ishita to beat Raman in his own game. We saw how Raman promised Ishita too keep her abreast about all details important in his life. And the loving wifey that Ishita is she has convinced her hubby to go in for a thorough body check-up.
The duo leave the Bhall house early in the morning to get Aditya's stem cell papers renewed and also finish Raman's blood tests. Shagun is surprised that Ishita is unaffected by all the drama that unfolded at the party. Shagun is wondering why her husband's new wife is not bothered by her presence in his life. Ishita asks Raman to continue with Shagun for the stem cells procedures and waits to finish the formalities for his other tests.
Later, Raman is seen petrified of the needle and waiting impatiently for Ishita ti come. Shagun decides to play a perfect vamp and hopes that a scared Raman will reach out for her hand like the earlier days. She's shocked to see Raman reach out to Ishita instead of her. A miffed Shagun leaves the two lone. Raman notices tears in Ishita's eyes when he's through with the tests.
On leaving the hospital Raman asks Ishita if she's in love with him? He reasons out and tells her how she cried when he was in pain. Ishita is stumped, she smartly responds and rubbishes all his talks as filmi. But, the duo who are resisting any such thoughts are definitely growing closer. Don't you think so BollywoodLifers?
Well in the coming episodes of Yeh Hai Mohabbatein one can expect more than just romance between this loved jodi. The suspense around Ishita's sister's pregnancy and Shagun's growing anger, so you keep a close watch at this space….