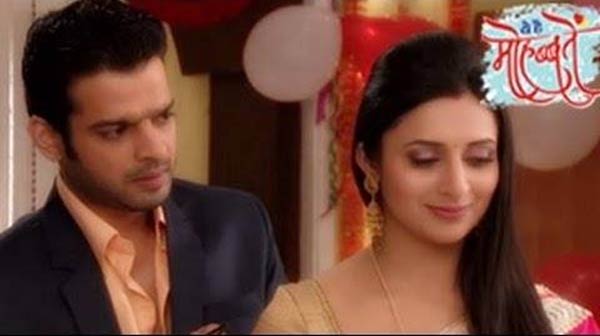 Theirs is an unusual relationship. Love might still be missing but this couple has trust and faith to bank on. So then why is Raman jealous of another man? Read on to find out!
Ishita (Divyanka Tripathi) and Raman (Karan Patel) have come closer after many ups and downs in life, but this couple lacks romance. However trust us when we say that they are nearing the phase when they will soon discover that they are indeed in love and it's not just Ruhi who bonds them. In the coming episodes a lot of truth will be unraveled and one might just be Raman's love for Ishita. Will he accept and admit it? Well, wethinks he will.
Trying to beat his wifey in salsa dance Mr Bhalla decides to take some extra classes, especially after he realises that Ishita is a fab dancer. However, Raman ends up with a sprained balm that is now being nursed by his competitor. While massaging Raman's back Ishita receives a call from brother-in-law Bala, who Ishita just cannot stop praising. Seeing Ishita say all nice things about Bala, Raman gets jealous. Raman is slowly changing from an unaffected hubby. In the meanwhile Raman's sister Simmi is jealous of Ishita's happiness.
Ishita spots Mihir's fiance Trisha and discovers that she is in a relationship Raman's brother Romi. Meanwhile, Raman and Mihir on the other side go jewelry shopping. Raman leaves Mihir at the ring section and looks at the necklace section. He specially designs a necklace for Ishita which very heavy and expensive and asks them to deliver it to his house. A happy Mihir teases Raman.
Is Raman's jealousy a sure shot sign of his growing fondness for Ishita? Will he manage to surprise Ishita with his loving gesture and expensive gift? Well, we will keep you posted on all that and more from Yeh Hai Mohabbatein…