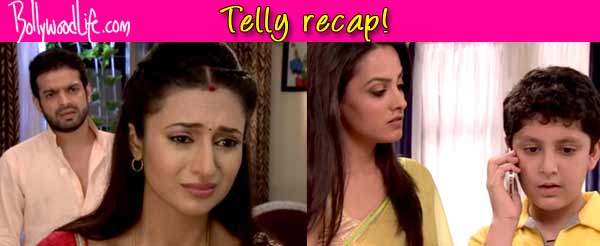 If the last episode of Yeh Hai Mohabbatein left you shocked like Ishita, be certain that the upcoming one will leave you baffled…
Raman's (Karan Patel) ex-wife Shagun (Anita Hassanandani) is certainly succeeding in her attempt to separate her ex-husband from his current wife Ishita (Divyanka Tripathi). Last night we saw how Raman is excited to know that Aditya wants to spend time with him. Little does he know that is Shagun who wants Raman with her and not son Adi. However hurt Ishita is, she will not stop her husband from spending time with his kids. Even if it means that Shagun will very much be a part of this outing.
A hurt Ishita even leaves the Bhalla house, but with her parents home locked she has nowhere to go. She finds support in her mother-in-law. Mrs Bhalla coaxes Ishita and comforts her.
However, in the coming episode we will see Raman his ex-wife Shagun and their two kids go out for the planned picnic. Shagun has certainly won in her game. But, will she even win back Raman? Clearly with the way things are going Adi might just succeed in reuniting his parents. But, a little birdie tells us that the truth will win ultimately.
Watch this space as we reveal the exact details of what will unfold on Yeh Hai Mohabbatein in the coming days right here…