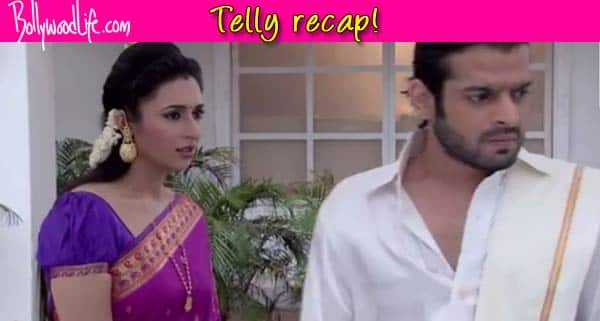 Raman is willing to go to any extent to get Bala to teach his son Aditya, so he has accepted wife's challenge
Ishita (Divyanka Tripathi) and Raman (Karan Patel) are falling in love and we at BollywoodLife had predicted that. From being a relationship based on mere understanding love has finally found the two. However, will Ishita's prank make Raman angry and the two apart? Well read on to find out…After Bala confronts Raman about Shagun's offer to teach her son Aditya, he feels that the opportunity is worth for Ishita's brother-in-law who is currently jobless and asks him to accept his ex-wife's proposition. While Raman is still unaware, Ishita also insists that Bala accept Shagun's offer to teach Aditya. However, Ishita pretends before Raman and challenges him to follow her order for 24 hours and only then will her brother-in-law teach his son. Raman accepts her offer and plays the perfect husband and son-in-law.
Raman's magnanimous gesture of not just attending a puja with his wife and in-laws, but adhering to all the rasmo-rivaaz has everybody bowled. Mihika and Vibhu's plan to make the day more romantic for Raman-Ishita is also a hit, when Raman takes Ishita on his lap and feeds her laddoo. Now this all looked perfect until Ishita reveals to Raman that it was a prank and she was feeling guilty. An angry Raman snaps at Ishita and left both his darling wife and us surprised when he tells that he did all this for Ishita. 
Now we like the new Raman Kumar Bhalla just like his wifey. The tough Punjabi munda is mellowed down now and how! Well, however some tough times are still in store for this lovable couple thanks to people like Shagun and Parmeet. But looks like together they will fight all odds, hai na BollywoodLifers? For all updates on Yeh Hai Mohabbatein come back right here….