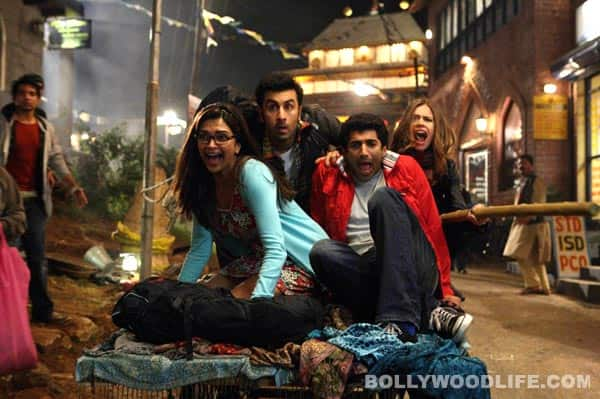 Multiplex owners may have blocked the advance booking of the Ranbir Kapoor-Deepika Padukone romcom, but trade pundits believe that it won't affect the film's weekend collections
The 'advance booking' concept seems to be a thing of the past or so we believe 'coz in today's times we rarely come across films which evoke enough excitement and craze among movie buffs to get their seats booked well in advance in cinema halls. But considering the good promotions and buzz of Karan Johar's romcom Yeh Jawaani Hai Deewani which released today in cinemas all over, a good advance booking was expected but unfortunately that didn't happen.
As per a tabloid story, the multiplex owners have refused to part with the usual 52 percent profit sharing with the distributor thereby affecting the YJHD producers, UTV. From what we hear, multiplexes work on a sum-assured formula which varies from film to film. If the net collections cross that amount, the distributor is given 52 percent of the total collection; otherwise, they get 50 percent. But the issue here is that UTV wanted the base amount to be lower and we are told it is impossible for the owners to give in to UTV's demand with competition on the rise and prices of movie tickets also being slashed.
While some trade experts suggested that the multiplex owners' move can be detrimental to this Ayan Mukerji directorial, leading exhibitor-distributor Akshaye Rathi defers. He said, "I don't think Yeh Jawaani Hai Deewani will be affected at all. It's a much-anticipated film and the entire industry has their eyes on it. The film has Ranbir and Deepika coming after a long gap, high production values and chartbuster music. With all this going for it, the 'no advance booking' thing can't stop this romcom from taking a smashing opening at the BO in India. I predict very good weekend figures and hope this will be Ranbir's highest grosser till date."
Last heard, both Dharma Productions and UTV were trying their best to resolve the differences with the multiplex owners. Watch this space for box office updates!