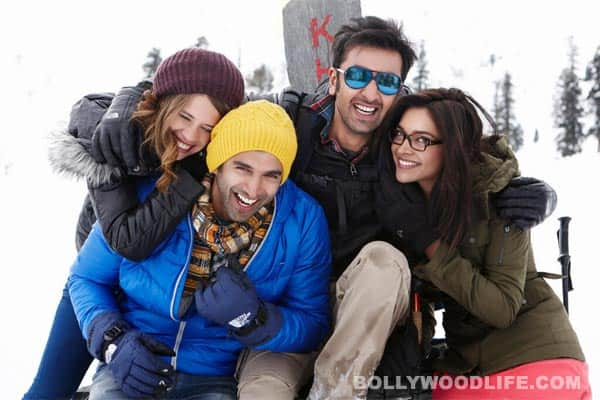 Ayan Mukerji's take on four friends and their lives may not be the best portrayal of friendship and love, but it's not the 'we slam it then and there' kinda film either
Yeh Jawaani Hai Deewani starts with Ranbir Kapoor shaking his leg energetically with Madhuri Dixit to the beats of the fast paced Ghagra number. And the best quality about the Kapoor kid is that he doesn't shy away from indulging in goofy antics onscreen. And that adds to the already 'fixed deep into his system' charm.
Deepika Padukone is raising her bar with every film. She portrays a geek in this one, the kind of girl every guy doesn't simply flirt with but falls in love with too, as Ranbir Kapoor says in his romantic baritone in one of the scenes. And this studious chick is the typical and stylish Dharma Production nerd who looks good in her bespectacled avatar with blow-dried hair and feminine outfits. She's like a Hindi film hero – who along with knowing the lyrics of Chumma Chumma by heart, can also give a sweet little monologue on the fundamentals of Biology.
Kalki Koechlin and Aditya Roy Kapur are Ranbir's cool and supportive friends who are almost like his backbone; RK uses them not just for some hardcore fun but also relies on them like a family. Kalki's punkish, unpredictable, impulsive avatar is interesting to watch, and Ms Padukone who  gradually ends up becoming her best bud in the film, beautifully describes her mercurial nature – from the way she at times thinks she's an artist to her ludicrous notions of fighting 10 men all by herself – Koechlin's character is beautifully etched out. Aditya on the other hand is simply…duh! The moment he opens his mouth, you feel like asking him to hone something – that's his acting skills.
So the film is about Ranbir Kapoor (Bunny) – the flower child, and Deepika Padukone (Naina) – the girl who desires a conventional life (shaadi, husband, kids, stability…blah blah!). How these two diametrically opposite characters unite and have the time of their lives with some 'completely crazy in the head' friends is what the film is all about.
Bunny and Naina's eyes meet for the first time…err…the second time actually (and properly) in a train as they both head towards Manali. For Ranbir, it's just another adventure but for the academic worm Deepika to ditch her usual routine of burning the midnight oil and her 'high-fundoo' tomes is a bold step. She basks in love and transforms (not completely but to the point of realising that making friends and having fun is as important as mugging up human anatomy). But just when she is about to confess her love to Ranbu after a fun-filled trip, she hears RK's got a scholarship in Chicago. Later the charming Bunny whose dream is to fly, explore every nook and cranny of the world, revels in the sunshine of Europe and explores the streets of Paris.
But in the journey to find his passion, the Kapoor kid loses touch with his friends only to reunite with them years after at Kalki's wedding. Yes, the hippie finally decides to marry someone else despite having feelings for Aditya in the past. And the movie conveys that love can happen twice. And as in Ranbir's case, you can also be a late bloomer.
Will Ranbir come back to his daal-chawal kinda boring life; is it possible for a traveler like him to cut off his constantly fluttering wings? Well, you will have to watch the film for that.
There are moments in this movie that take you back to your college days. And even though the story is nothing out of the ordinary, not an exceptional concept, there are hardly any boring moments either. The signature Ayan Mukerji style may be missing, but the 'Mumbaiyaness' which was a strong flavour in Wake Up Sid, wafts through in this as well. The movie is like a pleasant book you would like to curl up with and read on a cold monsoon evening with hot chai and pakodas. Nothing serious or arty-farty about it, just have fun!
Rating:
out of 5
Reviewed by Deboshree Ghosh
* Poor
** Average
*** Good
**** Very good
***** Excellent
Rating:
out of 5
Reviewed by Deboshree Ghosh
* Poor
** Average
*** Good
**** Very good
***** Excellent