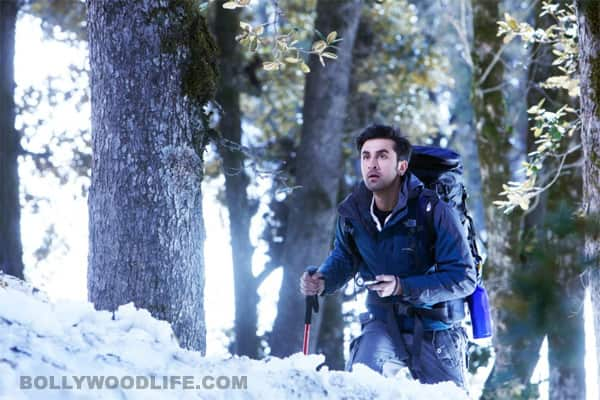 skip advertisement
The Internet has been flooded with delightful stills from this movie. Do they hint at the storyline? Find out!
Buzz is that Yeh Jawaani Hai Deewani is a story of four friends – Bunny, Naina Talwar, Avi and Aditi – played by Ranbir Kapoor, Deepika Padukone, Aditya Roy Kapur and Kalki Koechlin, respectively. And a lot is being said about Ranbir and Dippy's chemistry which looks awesome in the snapshots. Why? Providing an answer to that, the Rockstar said in an interview, "I share a deep comfort level with her. I don't feel awkward with her. We are all professionals."
Also, talking about the story, RK said, "This is the story of a guy who grows up from a 21-year-old boy to a 30-year-old man. It's an urban film with characters that are closer to today's youth."
The stills showcase Deepika aka Naina Singhania looking like a bookworm and Ranbir Kapoor aka Bunny who is a television host, looking more like a bartender (see image with a champagne). Undoubtedly, the two fall in love and like always yearn for a 'happily ever after' life. The two other friends – we suppose – will just act as catalysts in this love story and perhaps will fall in love themselves. Hmm, but that's so usual, no?
What will be different in this love story? Perhaps this Ayan Mukerji directorial will deal with the problems of love between a scholarly lady and a travelling journo addicted to alcohol. Possible? Or better still, it could be just be a usual love story that involves a break-up, making Naina bury herself into books and pushing Ranbir to go off on weird assignments as a TV host. The two supporting actors will be seen, well, supporting their respective friends.
But all that's just wishful thinking. What will the real picture turn out to be? We wait and watch!