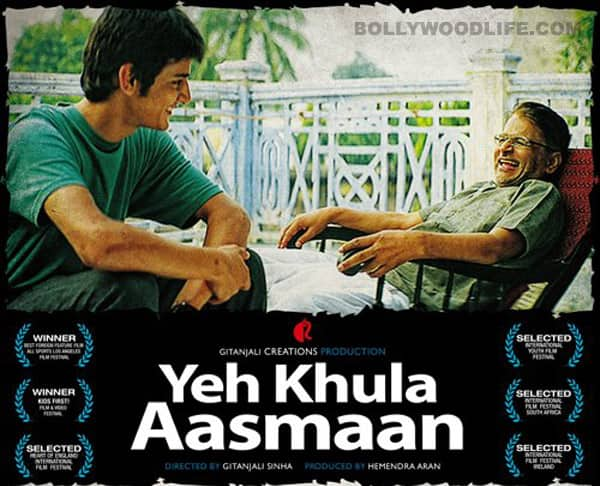 It is a competitive world, but the fear of losing should not stop you from trying. And if you give it a shot, then might as well have the conviction to succeed. Yeh Khula Aasmaan keeps driving home this one point – over and over again
Yeh Khula Aasmaan is the story of a teenager, Avinash (Raj Tandon) who fails to get admission into IIT, and loses all hope. He tries to seek solace in his parents (Yashpal Sharma and Manjusha Godse), but they don't even make the effort to take his call when he needs them. Disappointed and desperate, he leaves home to meet his grandfather aka Dadu (Raghubir Yadav).
As a child, Dadu had been his best friend, but his father takes him to London for . On seeing each other after ten years, they break down. Slowly Dadu figures out Avinash's predicament and offers encouragement. He tells Avinash that he is intelligent, but lack of confidence will never let him achieve his goals, and that he must have the conviction to succeed. Under his Dadu's company, Avinash finds true friendship, love and inspiration to succeed.
The kite flying competition is one of the major events in the village. Dadu, who has been the best kite flier of his era, imparts his knowledge to Avinash when he expresses a desire to take part in the competition. Although he puts in all the effort, Avinash doesn't believe he can win. Dadu uses the kite as a metaphor for life and explains that fear of failure shouldn't stop you from trying. Before saying 'I Can't' it's important to say 'I Can'. The preparation and the obstacles leading to the kite competition make the rest of the story.
Yeh Khula Aasmaan has a noble objective and a lesson for every teenager who aspires to succeed in life. The film also highlights the importance of loving your grandparents. Despite having the right intentions, the film fails to make an impact. The simplicity of the story is what touches your heart, but the plot becomes too predictable in the second half. It fails to convince you that a positive attitude can help you achieve things you deem impossible.
Debutant director Gitanjali Sinha makes an honest effort, but she needs to tighten her storytelling skills and learn to bring out the best in her actors. Some of the cast members seem like random choices, especially Salim's (Aditya Siddhu) friends.
Raghubir Yadav gives a natural and touching performance as the dadu. Raj Tandon is shaky in the beginning but makes an honest effort to blend in later. However towards the end he fails miserably. Yashpal Sharma doesn't look convincing as an urban character – he looks forced and fake. His awkward dialogue delivery in English turns you off. He should probably stick to rustic roles that bring out the best in him. Anya Anand, who plays Avinash's love interest, has truly nothing to contribute to the script. Nitin Kerur as Avinash's childhood friend does a decent job. Aditya Siddhu hasn't been fully utilised. Gulshan Pandey as Javed is decent, but the negative plot weaved around him comes across as forced.
Yeh Khula Aasmaan is simple and sweet, but fails to leave a lasting impact, mainly because the story lacks the required punch. It is an unpolished product. However, it could be a decent DVD watch.
Also Read:
MOVIE REVIEWS: Gandhi to Hitler, Khap, Bubble Gum