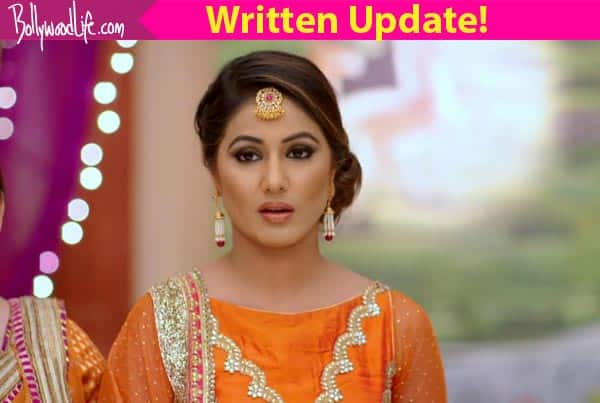 Yeh Rishta Kya Kehlata Hai starts with Naira (Shivangi Joshi) running to Swarna (Parul Chauhan) hugging her, assuming her to be Akshara(Hina Khan). She cries and says mumma. Swarna says Naira….. Naira (Shivangi Joshi) gets away and sees her. Swarna recalls Akshara (Hina Khan) seeing her pic. She keeps white flowers near the pic. She makes Naira light the diya. Everyone comes. Swarna says I am Kartik's (Mohsin Khan) mom. They all get shocked. The neighbors come and ask what we are we hearing about Akshara's death. They go to put garlands on Akshara's picture.
Naitik (Vishal Singh) comes there and takes the picture. He scolds them and says we will tell you if there is any news, do you know what it means to put garland, go from here. Naira calms him. Naitik asks how you can lose so soon, you are Akshara's daughter she will come back. Naira says I am sorry. Swarna looks on sadly. Naitik says shut the door, we will know when Akshara comes. Naira goes to shut door. Kartik (Mohsin Khan) comes and holds the door. Naira sees him and cries.
He says Naira. She shuts the door. He pushes the door and gets inside. Everyone get shocked seeing Kartik. He asks what happened to you, why are you silent, how will I understand, I was in hospital, I met with an accident, you did not come to meet me once, what happened. He asks why is everyone sad here. He asks Mishti to say. Mishti hugs Karishma (Priyanka Udhwani). He asks Gayu (Kanchi Singh). Gayu turns away. He asks anyone to say.
He says Naira, go and call Akshara, I don't understand your annoyance, and just she can end this. Naira shouts at him to stop the drama. He asks what is his mistake. She asks don't you know. He says I remember I was with my friends, I took friend's car and then I met with an accident. She asks, don't you remember, you did my mumma's accident and she fell down the cliff. He gets shocked and asks are you mad, what are you saying, call Akshara, where is she.
He sees Swarna standing far and thinks she is Akshara. He says is your joke over, Akshara is there. He goes and sees Swarna. He asks Naira what is happening; I don't get good feeling, end this prank now. Naira says what's there to end, you ended everything. He says I did not do any accident, I don't remember. She says how you will remember, you were drunk, I told you many times, not to drive and go home, why did you not listen to me…my mother….He says trust me, how can you think so?
He goes to Rajshri and Vishwamber, and asks do you trust me, I did not do anything, I met with an accident, there was no one. Naira shouts enough, no one will listen to you, we have seen that place with our eyes, the police studied everything well, they are sure you did the accident. He says no way, I would remember. She says you were drunk. He says I was not drunk, my friends offered me drinks, I did not drink. She says I spoke to you, I sensed you were drunk, so you met with the accident, do you remember. He says there was a stone. She says and my mumma. He says no, this is not true, there was no one. She says you don't remember anything, you were lying unconscious there, and everything got ruined because of you, my mumma… He says don't say this.
Naitik shouts leave from here and holds his collar. Kartik says I did not do anything. Naitik holds his neck. Naitik says my Akshara is not with me because of him. Naira and Swarna ask Naitik to leave Kartik. Naitik suffocates him and says I will not leave him. They all shout. Naitik pushes Kartik away. Kartik falls down and his head was about to get hit. Manish (Sachin Tyagi) comes and keeps his hand under his head to hold him. Manish gets angry.
Akhilesh asks Manish to be careful. Kartik gets up and sees Manish. Akhilesh asks Kartik not to say anything. Manish asks Naitik how you dare do this with my son. Naitik says you may not know what Kartik did; he killed my wife. Manish says nothing is proved, till it's proved, don't dare to touch or blame him. Kartik asks who called you here, please leave, it's my matter, I can solve it. Naitik says take Kartik away, else I will not leave him. Manish says I dare anyone to touch him, he is Manish Goenka's son, and it's not easy to file a case on him.
Kartik asks Akhilesh to take Manish, I don't need him. Akhilesh says they are blaming you. Kartik says they are my family, I agree if they punish me, but none will say anything to them. Naira looks on. Kartik asks Akhilesh to tell Manish not to interfere in their family matter. Akhilesh asks him to stop it now, and don't speak till our lawyer says. Kartik says I don't need lawyer, they are my family. Akhilesh says listen to me. Naira says I have to say something, just Kartik knows the truth, please tell us the truth, everyone is waiting, tell us will mumma come or not, what happened with her, where is she, say something. He cries seeing her. She begs him to say. He says he is being honest all along. She says why is our and your truth different, all the evidences say my mumma's accident happened by your car.
(Also read: Ishqbaaz: Tia's fake kidnapping drama before Shivaay's reception)
Police comes there. Inspector says our expert checked the area well; Kartik has done Akshara's accident, so he has to come with us to police station. Everyone get shocked. Inspector asks Naitik to sign. Naitik signs and gives the papers. Kartik, Naira and everyone cry. Koi bhi kuch bhi na kah paya…..plays……… Inspector asks Kartik to come. Kartik is taken away. Manish stares at everyone. He says police took my son, it does not mean he will go jail. Naitik says he will be punished and go jail. Manish says it will be better if you strengthen family's courage than finding peace in my son's problem. He leaves. Swarna greets them and leaves.