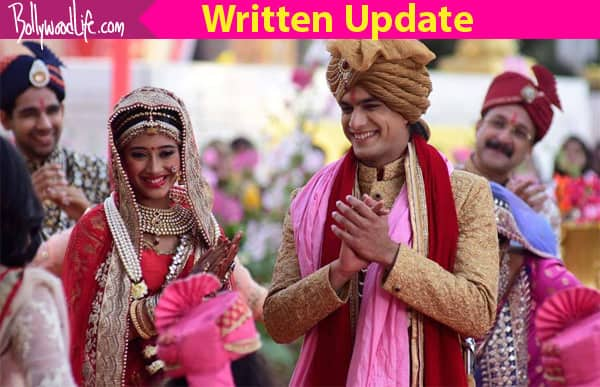 Yeh Rishta Kya Kehlata Hai starts with Naira (Shivangi Joshi) and Kartik (Mohsin Khan) doing Jaimala. He says Naira has to do some hard work to put the garland on him. Naksh (Rishi Dev) and Naitik (Vishal Singh) lift up Naira while Manish picks up Kartik. Finally, the Jaimala happens and everyone cheer for them. Kartik sees a happy Manish behind him and gets upset. Naira smiles at him. Mishti and Gayu (Kanchi Singh) comment that everything is proceeding smoothly. A swarm of bees come and sting Naksh. Daadi gets worried. Naira is about to fall but Naitik and Kartik hold her. She hugs Naitik who makes the couple sit on the dias.
Keerti is calling up Aditya but he does not pick up the calls. Manish (Sachin Tyagi) asks where her husband is. Gayu teases Naksh about the bee bite. Kartik says if I knew you would look so hot as a bride I would sign a prenup that you dress up like this every day. Naira says I completed my challenge what about you? Akhilesh's wife says she dropped the keys of the room where the gifts were kept. Manish scolds them. Rajshri finds a key and gives it to Swarna. The Goenka's get happy finding the key.
Swarna (Parul Chauhan) tells Naira that she is looking fabulous. She says I know it is tough for you to reconcile Kartik with us but I want you to try. Kartik sees Swarna and Naira and gets angry. Kartik and Naira are escorted to another mandap for the saat pheras. It has beautiful décor and everyone congratulates Naksh on his hard work. He says I want a couple of minutes with Naira before the pheras. Naksh takes her aside and shows a tree decorated with her childhood snaps and toys. She gets emotional and says I want to take this with me. He gifts her a bracelet. They hug.
They are taken to the mandap where children hide Kartik's shoes. Naira remembers her early days with Kartik. He also recollects the proposal. They sit down.