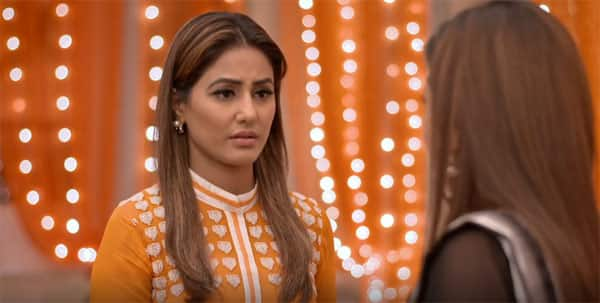 Yeh Rishta Kya Kehlata Hai starts with Kartik (Mohsin Khan) cheering up Naira as her mood is off. He applies colour on Naira's face and tells her to smile like how cartoons smile with blush.  Kartik grabs his file and leaves for office and tells Naira to take of everyone because she is a princess and its responsibility to take care of her family. Naira smiles looking at Kartik.
Rajshri (Lata Sabharwal) cries and says I had to lie to Daadi about Naitik (Vishal Singh). Vishwambhar says yes, it tough for all of us to lie to Maa. Mishti is sad as Naitik did not come back and says all the preparation are gone waste. Naksh (Rohan Mehra) cheers her. Mishti says Papa may also go again, elders do not understand our emotions.
Naksh hugs her. Karishma (Priyanka Udhwani) is angry as Naman (Anshul Pandey) is always working. She tells Akshara (Hina Khan) that Naman is always working; he doesn't talk to her and has no time for her. At least Naitik did not come home with pending work. She says that Naman got a call and he is always running as if it is an emergency. Akshara thinks there is something Naitik and Naman are hiding.
Gayu (Kanchi Singh) stops Kartik. Kartik jokes and she smiles. He says it is good Naitik's daughters are smiling, else I would have had to make a project to make them smile again. She wants to go to office with him. He says no he has some other work. He tells her to stay at home and take care to Akshara and others. He calls someone and tells him to wait there as he is coming.
Shaurya appreciates Kuhu for her brilliant result. Everyone gets glad. Kaki says Nannu was so good in studies; somebody pushed him into bad ways intentionally. Rajshri says her why does she think they are saying against Nannu if they are praising Kuhu. Kaki says I feel everyone is happy here and he is alone there. Rajshri explains her to encourage Nannu and be happy. Kaki says her heart is always thinking about Nannu.
Vishwambhar says why are we saying all this. Rajshri says our family will break like this. Varsha says we all are sad here, and Akshara is sad there.
Naira and Gayu are trying to cheer Mishti. Naira goes to buy stationery for her and goes towards the car to bring cash. There she sees two strangers talking about how their boss is fooling Naitik by transferring money into his account. Naira gets very angry and wants to know who the boss is. Naira secretly follows the stranger and sees their boss. Kartik turns out to be there boss; Naira gets very confused and thinks that can Kartik do all this.
(Also read: Yeh Rishta Kya Kehlata Hai 17th September 2016 full episode written update: Naira dresses up Akshara for Naitik's return!)
She starts recalling all the incidences of Kartik being secretive about the Kenya calls and that he lied to her about office. She thinks something is wrong.
Akshara calls Naitik and tells her why isn't he here. He says he won't be able to come. He hugs her and surprises her. He says my work got over after Naman left. I took the next flight and came. Akshara is so happy, he lifts her in his arms, Akshara is telling him to leave her, and her imagination ends. A man comes in with parcel for Naman. He says parcel is important and has to be handed over to Naman only. Akshara says I am his bhabhi give it to me and I will give it to him. He gives her the parcel. Parcel falls and stamps inside the parcel fall. She thinks why they have ordered the same stamps they ordered a month ago and why is Naitik's name on the stamp.
Naman says this means Kartik is providing our information to Naitik and tells his man to keep an eye on Kartik. The man leaves. Naman says Kartik is troubling him since day one. Naira sees the man with Naman and calls Chachu. Naira sees the envelope and asks who was that man, how do you know him? Naman lies to her. Naira says that man is cheating on Papa, he is with someone, I will tell truth to everyone, when Papa knows Kartik is doing this, he will not leave Kartik. Kartik is doing wrong.
Naman makes an illusion of Kartik cheating on Naitik and him and tells they want info that Kartik gave to others. Naira says I don't think so he is like that.  Naman says it was his plan to come close to us and he is friendly with Mishti so that he spied on us. He gained all our trust and broke it, even your dad's trust. Naira says I don't find him a crook. Naman asks do you trust him or your dad. Naira says Papa.