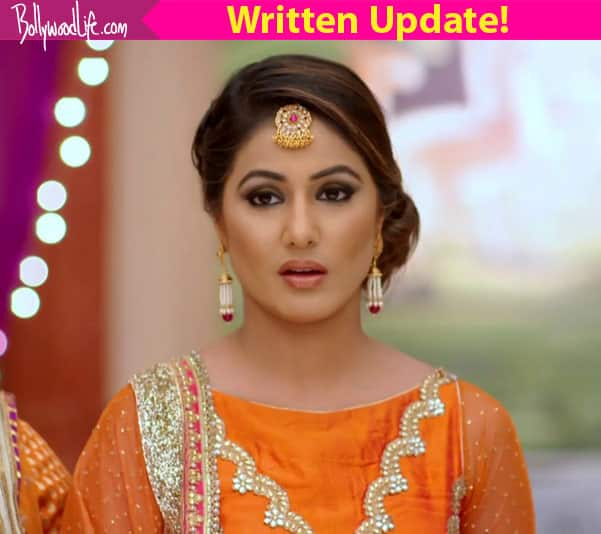 Yeh Rishta Kya Kehlata Hai starts with Akshara (Hina Khan) stumbling but Naira (Shivangi Joshi) holds her. Akshara asks her is she going out. Naira says yes. Akshara asks her to always trust Kartik (Mohsin Khan) and support him, I will leave. Naira says yes. Akshara smiles. Naira waves bye to her. Naira looks at Akshara's footprints and says maybe mumma stepped on it. Kartik meets his friends. They ask Kartik to party with them. Gayu (Kanchi Singh) asks Naira what is the tension. She says I know you are thinking of Kartik, did you fight with him. Naira says no.
Gayu says tell me, I am waiting. Naira says even I am waiting, that Kartik and his family's mystery gets solved. She says Kartik loves everyone, why does he stay away from his family, I am scared. Gayu says you can solve everything; we have to trust time and ourselves, don't leave trying. Gayu says you will make everything fine with your magic. She hugs Naira.
Akshara chooses clothes for Naira. The man says this bridal lehenga will have an emotional touch. He shows a sketch. She says it's nice, keep this design, and make this as I said. She prays for Naira. Bhabhimaa says I forgot to give this jewelry to Akshara for polish. Karishma (Priyanka Udhwani) asks her to call Akshara. Bhabhimaa calls Akshara and says it's not connecting, let's leave it, Akshara would have reached market.
Kartik calls Naira. She says I am leaving, did you reach. He says no, my friends are here, they want me to spend time with them. She says so be with them, we will meet tomorrow. Kartik says no, we will meet today. He says I know you want to know about my family, I will tell everything. She says fine, go now, else your friends will blame me. They ask Kartik about his girlfriend. Kartik says I have to go to office and meet Naira. They ask him to sit with them and drink. Kartik says I don't drink. They ask him to make bread pakodas for them. Kartik agrees.
Kaki teases Rajshri. Rajshri says Akshara is annoyed that I always make sweater for Naitik (Vishal Singh), this time I am making sweater for her, this pink colour will suit her. Kartik's friends spike Kartik's drink. Kartik hopes to explain his point of view to Naira; else even she will feel I am wrong.
Kartik's mother (Parul Chauhan) comes to the temple. Even Akshara comes there. Akshara prays for Naira. Kartik's mum prays whatever Kartik is going to do, no storm comes in family. Akshara's aarti plate is about to fall and all the puja items falls in the lady's aarti plate. The lady holds it. Akshara thanks her. The lady says Lord has managed it. Akshara says I came to pray for my daughter. The lady says I came to pray for my family. Pandit asks them to give plate, let it be if the pooja items got mixed. They both pray.
(Also read: Salman Khan's ex Iulia Vantur is back in Mumbai and this pic is the proof)
Kartik drinks and says what type of soft drink is it. His friends tease him. Kartik calls Naira. She asks did you get free. He says no, I m still with friends. She says enjoy with them. He asks did you get annoyed. She says no, if you ask many times I will get angry, you irritated me. He says I called to say sorry, tell me what's my mistake. She says fine, go to them now. He says they are cool like me. She says I have work and going. He says say I love you first. She says I love you. He smiles and says I love you too Naira. He kisses his phone and sees his friends staring. His friends laugh.
Kartik says I will not let this romance end all life, and smiles. Pandit says I have kept chunni and thread here for your daughter. Akshara says it's regarded auspicious. She thanks the lady and says if the puja items fell, I would have got doubt in heart, you have no relation with us and still helped, thanks, I am glad meeting you, I am Akshara. The lady attends call and says I am Suvarna Goenka. Akshara hears her and asks pandit is this lady Goenka's…. Pandit says she is Manish's mother. Akshara says she was Kartik's mum.