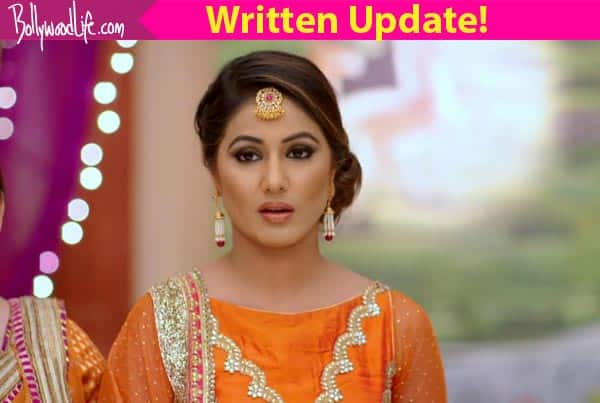 The episode starts with Kartik (Mohsin Khan) getting Naitik's(Vishal Singh)  pen. He says it means Akshara's(Hina Khan) doubt was true and Naitik sir is here in Switzerland. Kaki and Rajshri (Lata Sabharwal) come at Singhania house to congratulate everyone. Rukmani says I am giving this party to celebrate; I have got something special for Rose. She shows Kanha pic and everyone smile. Naira and Gayu(Kanchi Singh) look for Kartik and Akshara. The men take Naitik in the car. Naira and Gayu pass by and go not see them. Naman comes there and says yes, I m leaving with the papers. Akshara hides looking at him. Kartik looks around for Naitik. The man gets the file and gives it to Naman. Naman says fine, I am starting right now. Naira and Gayu see Naman and call him out. Akshara worries and says what they are doing here?  Naman doesn't do something to them. Naman says what are they doing here; he worries that is Akshara around? Kartik hears Naira (Shivangi Joshi) and sees her outside with Naman. Naira says mumma said you are going today, its good you are here, where is Papa. Kartik says how they reached here. Gayu says make us talk to Naitik. Naman says Naitik is busy, I did not meet him, there is no network, I told Akshara not to worry and relax. Gayu asks then where is Akshara, she called us here, she is also here, Kartik told us that Akshara is here. Naman gets shocked hearing this. Akshara and Kartik worry.
Naman signs the men. Naman says Akshara is here, when did she come, who came with her, I went out and did not know, I think Akshara is giving surprise, she does not listen to me. Akshara tries to sign Gayu. Naman turns and she hides. Kartik says I can't go out, Naman can hurt them. Akshara wishes Naira sees her once. Naira sees her. Akshara signs about Naman, and that Naitik is inside. Kartik sees Naira and signs her. Naira understands. Kartik says I have to find Naitik before anything wrong happens. He turns and sees the men. Kartik fights with the men to save everyone.
Naman says I have urgent work and we will talk later. Naira signs Gayu to see Akshara. Akshara signs Gayu and Naira to stop Naman. They both run to Naman and says spend time with us. Gayu says come and see my exhibition. Naira says we will click pictures for Mishti and Karishma. Akshara says I wish nothing happens to them, will they be able stop Naman? I can't go to them. Naira and Gayu ask Naman to come for shopping. Naman asks the men to stop them, he has important work. He leaves, and the men stop Naira and Gayu. Akshara looks on and gets shocked. Kartik is still fighting with the men inside the cottage. Akshara goes to the man and hits him with the cow bell. Naira and Gayu also beat the man.
Kartik asks the man where is Naitik? The man says Naitik is in the car, unconsciously. Kartik runs and tells Akshara that Naitik is in Naman's car. Akshara asks the Naira and Gayu to come fast. Naman's car does not start. He says I have to leave before Akshara reaches to us. Kartik comes to him and asks him to open the door. He sees Naitik in the backseat. He calls out Naitik sir.
(Also read: Karan Mehra of Yeh Rishta Kya Kehlata Hai fame approached for Bigg Boss 10?)
Naman tries to start the car. Kartik hits on the window. He says you are not doing right. He goes to get a stick. Naman's car starts and he drives off. Kartik calls out Naman and runs after the car. Akshara, Naira and Gayu come running, and ask where is Naitik. They see the car accident happening right in front of them. Akshara cries and shouts Naitik. They all rush to the car which stopped at the river side. They see Naman running away. Naira sees Naitik's muffler. Akshara shouts Naman to start. Gayu shouts Akshara to come and see the muffler. Akshara cries. They all get shocked and cry thinking Naitik fell in the river. Akshara faints by the shock. Kartik holds her.
Akshara wakes up and asks where Naitik is? Naitik holds her and says I am here Akshara. She cries seeing him and holds his face. She hugs him. Bin tumhare plays… Naira and Gayu cry looking at Akshara and Naitik. Akshara asks are you fine? He says your love was with me, nothing could happen to me. She says I could not think Naman could do this. He says yes, Naman cheated us, and other side is Kartik, he is not related to us, even then he risked his life to save me. Akshara asks where is Kartik? Kartik comes with his wounded hand. She asks are you fine? He says yes, it's little wound. She says thank you, I can't forget your favor. He says don't say this; it happened because of your love. Naira says yes, Papa is with us because of you mumma. Gayu says everyone will be glad knowing this. Naitik thanks Akshara for giving him a new life. They hug. Yeh rishta kya kehlata hai plays… Everyone smile.
Naman is caught by the police and brought to them. Akshara angrily gives him a tight slap. Naman apologizes to her and says I got blind in greed, do anything by taking me home, but take me from here. Naira says you won't be forgiven, you did not even care for humanity, this is not first time that you cheated Papa, you did a big mistake, you tried to kill your elder brother, how can you do this. Gayu says Naira is right, you have no right to apologize, Akshara and Naitik would forgive you, but Naitik should not forgive Naman.
Kartik says I know I am not part of your family, but I have to say, fights can happen in family, but killing someone is not right, Naman should not be forgiven. Naira says Papa, you won't forgive Naman…. Naman apologizes and cries.