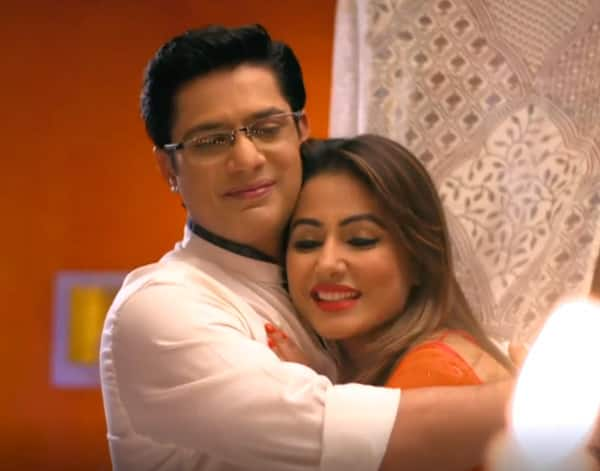 The Episode starts with Naira (Shivangi Joshi) getting Kartik's (Mohsin Khan) message. She reads Do you? Gayu (Kanchi Singh) asks Naira to come and catch Naitik (Vishal Singh) . Naitik runs. Akshara (Hina Khan) stops Naitik. She sings Pyaar ke bandhan…. Naitik smiles. Everyone is happy that Naitik is back and spends time with Naitik. He and Akshara cry and wipe each other's tears. Everyone hugs Naitik. All dance in joy. Naira gets Kartik's voice message and hears. He says I love you Naira, do you? I want answer till tomorrow. She starts to worry. Kartik says Naira has no time for me, I know she is not replying to me purposely. Rajshri (Lata Sabharwal) gives him tea and finds him lost.
He rests in her lap and says I can't tell you, there is something. She says fine; just get that out of your heart, so that you stay happy. He says I feel scared. Naitik sees just two tablets left. One tablet falls and he starts to look for it. He gets pain. Akshara comes and asks do you want anything. He hides tablets and says no, I was finding my charger. She says you are getting old; see phone and charger are there. He asks did kids sleep. She says yes, I asked them to sleep, come.
She gives coffee to him. He says I used to miss this place and coffee every night. He hears cow bell sound and sees it. She says Mishti asked us to get this and fixed this in every room. She cries. He asks her not to let bad memories come in her life, I am also fighting with them. She says I love you. He says I love you more than ever, we planned we will go Switzerland, and we went in this situation. She says yes, our dreams are incomplete. He says my dream can complete here, do you remember your promise. She says yes, I mean no. He says please, for my sake. Akshara goes to change. She comes wearing a red saree. He smiles and compliments her. Kitte jaun re piya plays… Naitik opens his arms. She runs and hugs him. He says we will permit good memories to come and replace all the bad memories. She asks can we really do this. He says yes, sure and hugs her.
Naira and Kartik think of each other. He calls her. She says he will ask me again, what I will answer. He wishes she answers. She does not answer. He says how this night will pass. Naira calls him and he answers. Her phone gets off. He calls back and gets her number off. She rests to sleep. He gets annoyed.
In the morning, Akshara and Naitik see Mishti crying. Mishti says you all are bad, no one stopped mumma. Naitik asks did anyone say her about Naman, what was she saying. Karishma says she was saying you all did not stop me from sending her to boarding, I was talking to my mum, its better we send her away, else she will know about Naman, I spoke to her doctor, he said she should not get any shock, we can tell her when she grows up.
Akshara says you did not tell us, is Mishti not our daughter, I know you are going through lots of problems, we will think well. Naitik says your sorrow is not yours alone, we did not forget all that. Karishma says I trust you, think how I m sending Mishti away, I can't take chance that her heart breaks; she will stay far and happy. Devyaani, Naitik and everyone agree with Karishma. Naitik asks Karishma to give school papers, they will check. Akshara cries. Naitik says you would be thinking I am stone hearted, we did not send Naksh as I wanted to discipline him, this time we are sending Mishti to save her from pain, if she knows about Naman, think what she will go through. Akshara says how I can send her, she is life of this house, when one comes, and other goes. She cries. Naitik explains her. Kartik gets the message and says this is not fair, how they can send Mishti to hostel.
(Also read: Yeh Rishta Kya Kehlata Hai Full Episode 14th October 2016 Written Update: Singhania family comes know Naman's truth)
Akshara and Naitik go to Mishti. Mishti cries and asks why they are sending her. Naitik and Akshara say we want your betterment. Akshara says Naman have to stay with police for some time, as he is helping police to catch thieves. Mishti says so what, I can stay without them, and did they do anything again. Naitik says you are right, but not completely, sometimes person does mistake intentionally and sometimes unintentionally, Naman did mistake, Karishma does not want you to get affected. Mishti says you both can't fool me, I m not so young, fine, I will go and do as you say, promise. She goes. Akshara cries and hugs Naitik. She says we feel she is little and does not know, but she is mature, she understood even when we could not say. He says yes, this pain is lesser than big pain, maybe things get well with time. Naitik again gets pain in his chest.