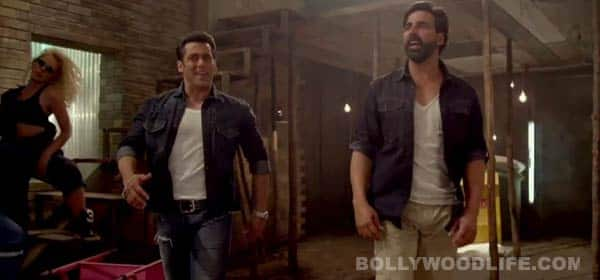 Singh's latest number seems to have upset the gay community and singer has been receiving a lot of flak online for the same. The song has hurt the sensibility of the gay community, and has been labelled insensitive and homophobic
The lyrics of the Fugly title track written by Yo Yo Honey Singh featuring Salman Khan and Akshay Kumar has hurt the sentiments of the gay community. While the song seems light-hearted and harmless, one verse from the track is the problem. The song opens with the lines, "Yeh Fugly Fugly Kya Hai? Yeh Fugly Fugly… Baap Ke Paison Pe Koodna, Sadak Ke Kone Pe Mootna, 377 Hatna Ya Jessica Lal Ki Ghatna, Launde Ke Munh Se Ouch…" The translation of this line is, "What is this Fugly? Enjoying on father's money, urinating in public? The removal of 377 or the murder of Jessica Lal… A man saying, 'ouch'.."
An online forum that discusses homosexuality and issues related to the on going battle for gay rights has been blazing with comments from everyone who finds the song offensive. Rohit an active member of the board says, "Why compare the removal of Article 377 to urinating in public, murder of Jessica Lal or someone enjoying his father's money."
While the comments are largely negative (see box) there are some who feel the lyrics aren't offensive. Giving a different view, Naresh who enjoys Honey Singh's work says, "At least the track is bringing some attention to 377. I don't think it's dissing the community. People will at least be curious to know about what this regressive law is all about!"
Sukhdeep Singh, editor of LGBT digital magazine Gaylaxy who has written a scathing piece on the song, says, "It is highly deplorable that they have to mock the LGBT community and group the removal of 377 (which happened after the 2009 judgement) along with a a bunch of disgusting things like urinating in public, murder for Jessica Lal and then call it ugly. For Bollywood, LGBT community has been a kind of punching bag and this song goes a few notches further. Not only just 377, the song also makes fun of gender non-conforming or feminine men when it says 'Launde Ke Munh Se Ouch'. It is hardly surprising though, given that Honey Singh's songs have been sexist and misogynist and now he has turned homophobic too. The movie is described as a comedy movie with a social message, but if the title track is to go by, one wonders is homophobia the message that they are going to deliver?"
After reading the negative comments from the gay community director Kabir Sadanand who stands for gay rights and believes 377 should be scraped says, "We stand for the freedom of choices and that's exactly what the song states. I am sure this is also the take of the lyric writer. 377 hatna is our fundamental right. Let's be clear, freedom stands at all levels, freedom of speech, freedom to live and freedom to be!"
Online comments
Suryatapa Mukherjee
"377 ka hatna." Are you serious? What is Fugly is Honey Singh and his misogynistic and homophobic song lyrics. Please, bro, keep in mind that your brain is only good at churning out crappy, meaningless lyrics, so please, do not use that to partake in social commentary. I don't know how this got through the production process and got okayed by everyone involved.?
Papri Das
I was confused initially if my interpretation of the song was wrong, but given that even guys have noticed it, this definitely was an anti gay comment. even the line 'launde ke mooh se ouch'…cant believe Sallu and Akshay agreed to promote this…?
Manu Joseph
Homophobic people in the film industry should not be entertained by anyone. How sad such lyrics are used even in the 21st century. ?
Sreya Roy Choudhary
Bollywood has always been homophobic and rather proud of that. People like Honey Singh feel the insatiable need to reference and ridicule human sexuality, solely because only such gimmicks can keep him afloat.
Asif
Just when you thought these Bollywood morons couldn't get more homophobic and misogynistic.