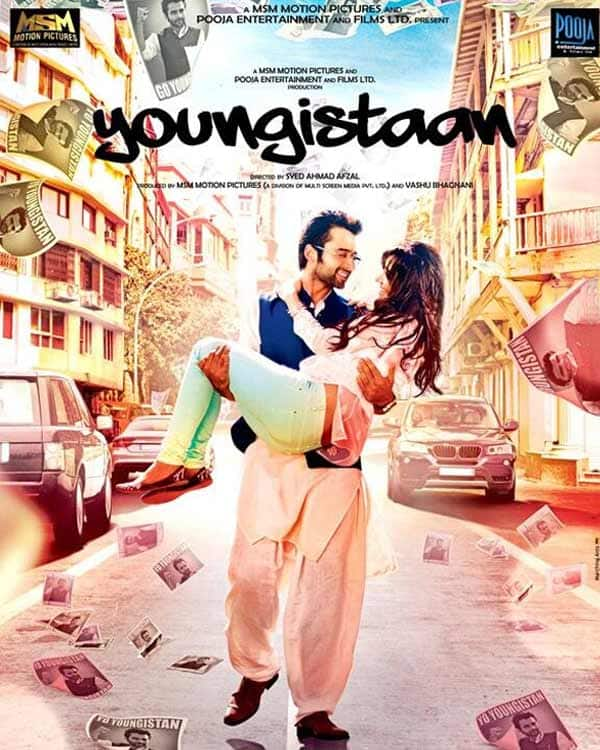 Jackky and Neha's Youngistaan, a love story set against the backdrop of Indian politics has hit the theatres and here's our verdict
Director Syed Ahmad Afzal's Youngistaan starring Jackky Bhagnani and Neha Sharma has released. The film is enjoyable as long as we get to see the love story between the lead pair. And as for the political backdrop of the movie, it gets a lil chaotic and unconvincing at times. One good thing about the film is, it doesn't make you leave with a heavy-heart. It's neither a serious political drama like Raajneeti nor a typical Bollywood kinda love story, which can't have a happy ending because of the society. The filmmakers have tried to show that the youth of India is ready for a change. And as unrealistic as the film can be, it's not completely dissatisfying.
Plot: Jackky Bhagnani plays Abhimanyu Kaul and Neha Sharma plays Anwita Chauhan. The duo are in a live-in relationship in Japan and are living the life which most Indian youngsters can only dream of. They are deeply, madly and crazily in love. While Jackky is a cool dude gamer boy, his live-in girlfriend walks dogs to earn a living. As the plot goes, the duo has been in a live-in relationship for three years. We get to see them partying, drinking and enjoying their life. And then that one phone call! The background music changes and we know that tragedy has struck! So what happened, you ask?
Well, Jackky's father, played by Boman Irani is in his death bed. Jackky rushes to see his father and the latter shares some wise words with him, which we don't get to hear, not immediately at least. And how does Boman convince Jackky to enter politics? The same ol' same ol'. 'Kya maine tumse peechle tera saalon mein kuch maanga hain?' (Have I asked anything of you in the past 13 years?) Phir kya? Jackky's father dies and he is sworn in as a PM. Meanwhile, he has to keep his relationship with Neha under the wraps. But somehow he still manages to be in a live-in relationship in India too with some help from his PA, played by Farooq Sheikh. It is Shaikh's last time onscreen and as always, he has done a great job. Some scenes are really cute and well-portrayed. When he tells Neha that he is going to be the Prime Minister of India, she thinks he is joking and when she realises that he isn't kidding, she reminds him that he had promised her that he wouldn't enter politics. Then he tells her that it was 'coz of his dad's dying wish that he has to. The typical Bollywood masala…
As living together before marriage is considered taboo in India, and if someone with great power and leadership does that, he will be slammed by the society, Jackky asks Neha to marry him. Her reply to Jackky is really nice and thoughtful. Anyways, Jackky as a lover boy is better than Jackky as India's youngest PM. He has some good ideas but if only the real-life candidates were like this, hai na? Though a lot of B-townies are entering politics, it doesn't seem like the ones with the bright ideas are keen on contesting elections. Sigh! They prefer it on reel life than real life! So, as the story unfolds, you will find out, if Jackky is successful as a politician. The story seems very far-fetched but it's a movie and that's what movies do, no?
What's good about Youngistaan?
The song Suno Na Sangemarmar is pleasant to the ears and a number that deserves a place in your playlist, if you are the romantic types, of course. The filmmakers have done a good job with the duo's love story. Neha as a young, jealous and possessive girlfriend and Jackky as the loyal lover are simply adorable. And despite no skin show and sleazy scenes, they convince us that they love each other. Also, they don't give in to the pressures of Indian society. We love the positive attitude of the filmmakers towards the issues that are otherwise considered taboo.
What's bad about Youngistaan?
If you watch it with a practical mind, everything about the film is far too exaggerated. Be it the love without any fights or the Indian politics. It's really difficult to bring in change in a diverse country like India. Jackky has done a decent job in the acting department but Neha needs to improve. In some scenes, we can't help but notice how hard she is trying to act or fit in the shoes of her onscreen character.
Well, you can watch Youngistaan this weekend if you have time. The movie is not all that bad. If it had a more powerful star cast, Youngistaan would certainly have had a different fate. 'Coz most of us watch the film depending on who the lead pair is irrespective of the story being good or bad, hai na?
Rating:
out of 5
Reviewed by Bhagyashr​i Pawar
* Poor
** Average
*** Good
**** Very good
***** Excellent