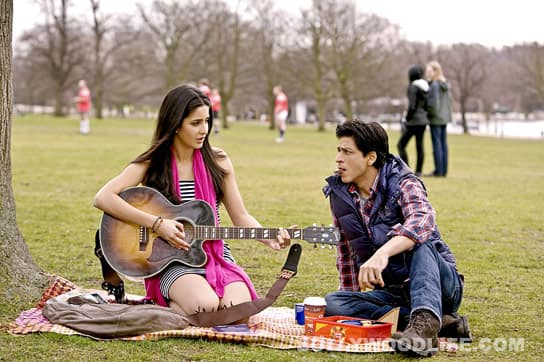 After a long wait, Yash Raj Films' most awaited film finally gets christened. Although we are a li'l disapopointed with the choice of the title, we hope the film eventually lives up to our expectations
It's pretty obvious why this romantic flick from the Yash Raj Films' stable is already creating waves. It's definitely the Shahrukh Khan-Katrina Kaif pairing and the fact that Yash Chopra is returning to direction after years, that is getting the film the much needed attention. The release date hasn't been finalised yet and the only sneak peek we got into the film was through a couple of stills. And as of now the movie looks like an out-an-out romantic flick with a complicated love triangle where Anushka Sharma and Katrina Kaif are all set to coochie-coo with King Khan.
Also the first look of the film gives us an impression that King Khan is gearing up to get back into his quintessential musical romantic hero avatar. After portraying the cool superhero and the dashing Don, seems like SRK has finally realised that he should stick to what he does best- romance his heroines atop snow-clad mountains! What's interesting is that Anushka's character and her look haven't been revealed yet. The mysterious girl has been missing from the posters and first look of the film. Anushka hasn't even shot for her portions yet!
Anyway, we were eagerly waiting to find out what this anticipated love story will be titled and must say that London Ishq is just not exciting enough. Let's hope the think tank at Yash Raj Films' changes their mind! Let us know if you like this title?