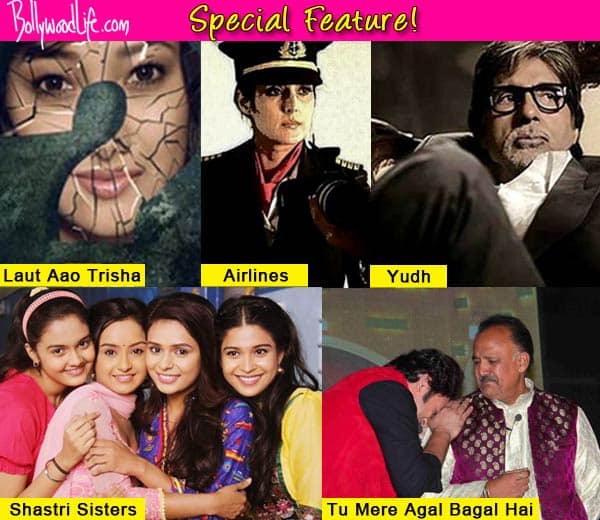 A lot of shows are going off air and several new are set to commence
BollywoodLife gives a list of top five shows like Yudh starring Amitabh Bachchan, Laut Aao Trisha the adapted version of the international series Missing, Airlines – Tulip Joshi's debut telly performance and a few others that you must watch out for…
Show: Shastri Sisters
Channel: Colors
Description: The story revolves around four sisters from Kanpur, who are leaving their city and migrating to another one. The show talks about their nostalgia with everything they left behind and their late mother, the changes in their lives post the shift and how they adjust to it all.
On Air: The show is touted to replace Madhubala Ek Ishq Ek Junoon from July 12
Show: Yudh
Channel: Sony TV
Description: Yudhisthir Skarwar, the owner of a construction company is suffering from a grave illness. His personal and professional life is in turmoil and his business rivals are out to get him. During his troubled times, he comes to know that he has an illegitimate child. The story stems around the struggles of Yudhisthir and how he emerges as a winner. If he does at all!
On Air: July 18
Show: Tu Mere Agal Bagal Hai
Channel: SAB TV
Description: The show will be a blend of sitcom and fiction. It 's based around two struggling singers Anu and Mallik, who are renting a room in Lal Singh's bunglow. The house is shared by another tenant as well – a Guajrati family.
On Air: July 7
Show: Airlines – Har Udaan Ek Toofan
Channel: Star Plus
Description: The daily soap records the journey of a woman in the aviation industry. It's a world dominated by men, but one woman – Tulip Joshi makes her presence known. Airlines trails the thrill, glamour and danger associated with this industry.
On Air: July end
Show: Laut Aao Trisha
Channel: Life OK
Description: It's an adaptation of the international series Missing. The show revolves around a girl, who goes missing and the struggle of her parents to find her. Coming from an affluent family, the news catches everyone's attention quickly but the message gets lost in the media frenzy to make it sensational. The trauma, struggle and obsession of the parents to find their daughter makes the rest of the show.
On Air: Undisclosed