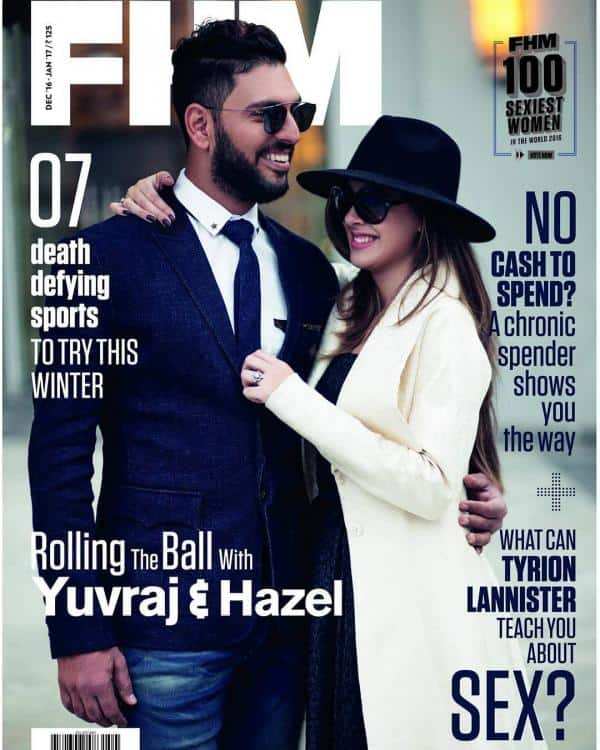 When it comes to classy, the Brits just know how to roll. And looks like our desi boy Yuvraj Singh is also learning the nuances as he poses with his wife, Hazel Keech on the mag cover. The latest cover of FHM magazine has newlyweds Yuvraj and Hazel. The best about their alliance is how they're having both, a November and December marriage (since they're getting married in two styles). The duo just got married yesterday in Chandigarh in traditional Punjabi style. They'll soon be heading to Goa to have a Catholic style wedding as well. However, with the wedding bells still ringing for the couple, they've already been featured in magazine covers. As you can see in this mag, Yuvi and Hazel have resorted to looking English. (ALSO READ: Finally! Yuvraj Singh and Hazel Keech tie the knot as per Sikh rituals – view ALL pics!)
Well, technically, it's the stylist and the editor who have formed this theme for the last issues of 2016. but you can't deny the fact that it has something to do with how Keech is from London. If you weren't aware of this, the couple have done one more photoshoot with Hello! magazine where they're both donning traditional Indian wear. Perhaps this is them showing how they get the best of both worlds. As you can see in this photo, the couple look handsome together wearing the classic Brit look. Yuvraj has donned a crisp navy blue suit while Hazel has opted for a dark hued dress teamed with a chic trenchcoat. What's more impressive is how she has donned a hat with her outfit.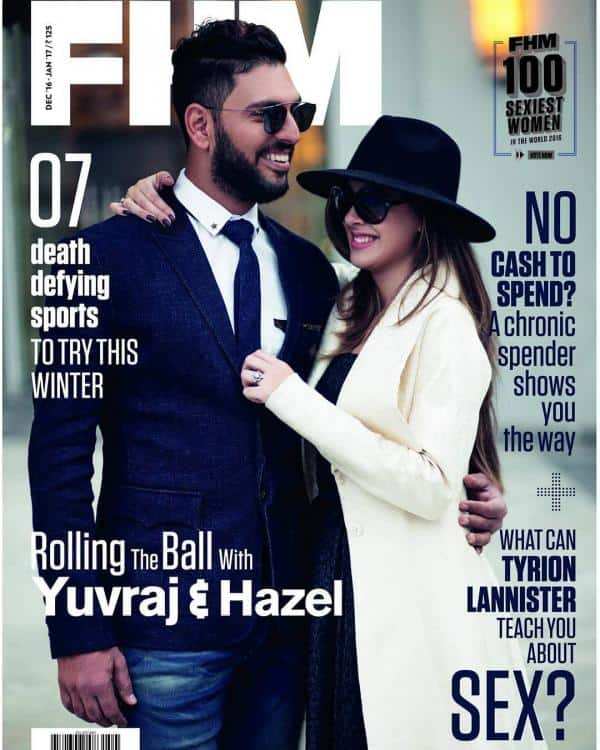 The couple got married on November 30 and we even brought to you all the pics from the ceremony. Hazel and Yuvi have been together for a long time and their love story is a lot like a Bollywood film. But we gotta admit, for their marriage both of them looked very royal as they let the traditions blend in beautifully with their ensembles. You can check out their looks right here. Even on the cover of FHM, while their ensembles do speak for themselves, it's the chemistry that stands tall. The kind of love the couple share is very much visible in the cover. Perhaps that's why theirs is one of the most talked about affairs.
What are your thoughts on this, BollywoodLifers? Tell us in the comments section below. Stay tuned to this space for more gossips and latest updates.
Hazel Keech did make for a an extremely gorgeous bride on her wedding day with Yuvraj Singh

Hazel Keech and Yuvraj Singh's matrimony was in fact, a grand affair to remember! The couple, who have been together for quite sometime finally tied the knot yesterday. Of course, the fashion police was at work as Miss Keech now Mrs Singh made some really cool statements at her wedding. As the wedding took place in Punjabi style, Hazel chose to look her ethnic best and yes, she definitely did justice to that. We all know how when it comes to Punjabi weddings, there are various ceremonies before the actual wedding day. So for the sangeet ceremony, Keech chose to keep it just as grand as her wedding. Wearing a JJ Valaya creation, the model turned actress looked very regal.

Image credit: Instagram

What was Hazel Keech wearing for her Sangeet ceremony?

The black embellished jacket looked royal. Although, the white ensemble she wore underneath was a little too contrasting with respect to colour as well as design. I'm not saying that it was all that bad but just that while the jacket was well finished, the white was plain. Perhaps a little shimmer or different shade instead of white would've done a better job of giving a bride-like feeling. Nevertheless, her headgear sure rewarded her extra brownie points. It made her look very radiant. As she stood with her groom, Yuvraj, who also donned a Valaya creation, Hazel looked damn pretty.

Image credit: Instagram

Hazel Keech opted for a JJ Valaya couture outfit for her wedding with Yuvraj Singh

For the wedding day, again, Hazel chose to don a JJ Valaya outfit. Just as stated by Singh's mother, Shabnam Singh, Hazel donned a beautiful red ethnic wear. Her outfit didn't scream shimmer as the applique work was very low key. Although, since the colour itself is loud, luckily the designs by Valaya weren't very flashy. Though many may consider her look not very wedding-y, I personally found this sober look very pretty. It didn't hurt the eyes like usually wedding outfits do. There was subtlety in the ensemble. Even her makeup was minimal. Now that's new. Usually people would just end up caking themselves on their big day but Hazel wasn't one of them. She looked good.

Image credit: Instagram

Hazel Keech opted for a bright yellow colour traditional outfit for her Mahendi ceremony

For her Mahendi ceremony, Hazel opted for a very pretty yellow colour traditional outfit which was going very well with the occasion. She has consistently tried to keep all her wedding looks as simple and subtle as possible and this is the major reason why we adore her so much. Infact this is one of her qualities which Yuvraj's mother Shabnam approves of her daughter – in- law. Hazel is extremely grounded and does not believe in splurging out on useless things.

Image credit: Instagram

Hazel Keech's choice of outfits was extremely sober and subtle unlike many other brides

Hazel might not have had loud outfits for her wedding but she sure nailed the Punjabi bride look. Keeping it simple and classy, we found her wedding looks really good. Next we gotta do is wait for her Catholic wedding pics for we know she's gonna be a gorgeous bride once again!

Image credit: Instagram