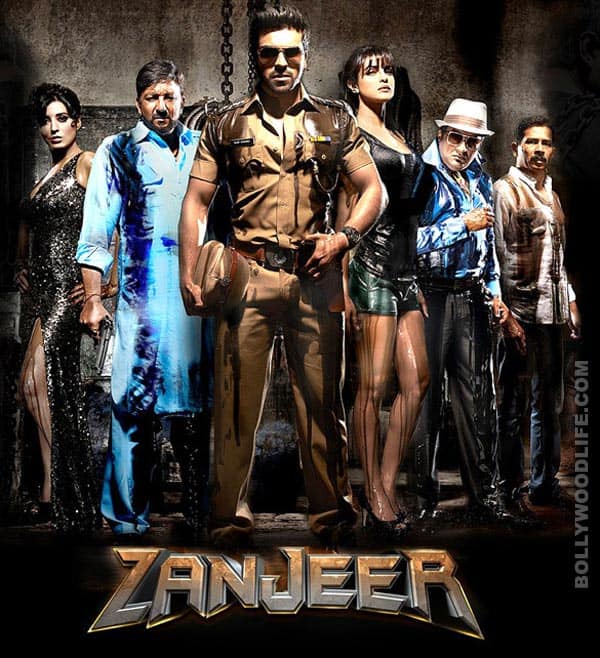 While Priyanka is eye-candy worth looking at in Zanjeer 2.0, Telugu superstar Ram is quite disappointing, while Prakash Raj is the perfect villain
Directed by Apoorva Lakhia, Zanjeer 2.0 starring Priyanka Chopra and Ram Charan is nothing close to the original version which had Amitabh Bachchan and Jaya Bachchan. The film comes off more as a typical Bollywood masala flick than an action thriller. No, we aren't saying there is no action. Of course there is, with numerous fights in the film… in fact, so many that after a while we lose track of who is bashing up whom and why, but these brawls fail to create too much of an impression.
Unlike the original film which begins with the murder of Vijay Khanna's parents, the remake starts with a squalid item number 'Chahe jitni guzaarish kar le' and though the director had promised that his item girl would take the industry by storm, this one is definitely thanda. We've certainly seen better! Once the song ends, Ram Charan (ACP Vijay Khanna) wakes up to his oft-repeated nightmare, of a hooded man killing his parents. A sweaty Ram vents his frustration on a punching bag – the scene would've looked very hot if it wasn't for Ram himself! Soon after, the fight sequences begin, one following the other in quick succession. Ram single-handedly and very violently fights off a politician and his goons, which results in his being transferred for the umpteenth time. This scene reveals one truth: politics always triumphs over what's right!
Further into the film, Priyanka Chopra (Mala) makes her entrance with a raunchy number, Pinky. In the film, PeeCee is a NRI who is visiting India to attend a Facebook friend's wedding (seriously?) and she's dancing at a wedding! Hmmm… She drinks like a fish and then, as she heads back to her hotel, she needs to make a pit stop at a dingy location. As she does the needful, the NRI witnesses a gory murder and calls the cops, frightened out of her wits – once she reaches her hotel room, she refuses to leave it. Somehow Ram aka Vijay traces her number and asks her to be a witness in the murder trial, which she doesn't want to at first, but with the ACP's emotional blackmail and her own conscience niggling at her, PC agrees to identify the culprit.
No, the romance between Piggy Chops and Teja doesn't begin until Ram shelters Priyanka in his home when she's almost killed and loses all her belongings. How sweet, no? That's not all, though. Ram, like any good superhero, is always at the right place at the right time to save the damsel in distress. Meanwhile, there's a physical fight between Sanjay Dutt (Sher Khan) and Ram. While this scene is on, it is easy to get a little irritated when Ram hits Sanju. I am not an ardent fan of Sanjay Dutt, but he won my heart with his longevity in Hindi cinema. So, out of loyalty towards Bollywood, it's difficult to watch the hulking Sanjay being bashed up by a far more puny Ram! But a few scenes into the film and the duo shake hands and become besties. Awww!
The villain, played by Prakash Raj (Rudraprakash Teja) is rudra in every possible way. He is cruel, violent, brutal, savage and barbarous. We love this bad man! Mahie Gill (Mona darling) plays his horny mistress. While there's no chemistry between the two, their cheesy dialogues convey their relationship. Does Mahie make a good seductress? Watch her simultaneous orgasmic breathing and talking, moaning and meowing and decide for yourselves. The character that we totally loved in the film is that of a journalist played by Atul Kulkarni (JD), reportedly based on the murdered crime reporter J Dey. He's really good!
The cinematography is not bad. In fact, the camera angles are just right, especially while capturing Ram Charan. But despite that he doesn't have a strong screen presence. Some dialogues by Priyanka and Prakash hit the target. The songs were forced and one or two less would have worked well to help us stay in our seats instead of restively longing for the interval.
Of course, the film has a happy Bollywood ending with the triumph of good over evil. In fact, after watching the last scene, it seems as if the makers are hoping to do a sequel to Zanjeer 2.0 – as if the remake wasn't enough! Priyanka's fans can enjoy this one for her presence, but anyone hoping to watch some great action is likely to be disappointed…
Rating:
out of 5
Reviewed by Bhagyashr​i Pawar
* Poor
** Average
*** Good
**** Very good
***** Excellent