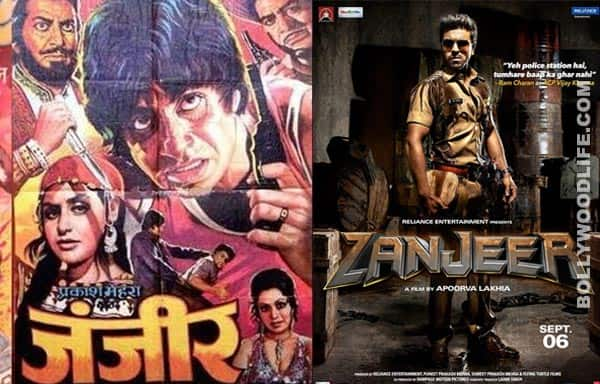 Apoorva Lakhia's remake starring Ram Charan Teja, Sanjay Dutt and Priyanka Chopra is all set to release this Friday. We dig out some interesting facts related to the 1973 Amitabh Bachchan starrer and the remake that you may not know…
While promoting Zanjeer 2.0, Priyanka Chopra said, "It's been a very difficult journey for Zanjeer. Director Apoorva Lakhia had the guts to helm the iconic 1973 Prakash Mehra directed action flick." Ever since Lakhia started shooting his remake, it grabbed all the unwanted attention and got lot of negative publicity. But here are some interesting facts about the movie. You must know what made the original 1973 Prakash Mehra directed movie one of Amitabh Bachchan's most remembered films of his career and what has Lakhia done to better the original if not surpass it!
Call it a co-incidence or a planned move, the fact is that Ram Charan Teja happened to meet the original Inspector Vijay Khanna – Amitabh Bachchan on the first day of Zanjeer shoot as they were shooting in the same vicinity. Lucky Ram!
Khochey Pathan is the second qawwali Sanjay Dutt has ever done in his career. The first was in Reshma Aur Shera more than four decades ago when Sanju baba was a cute kid! He did this even before his debut film Rocky, Sanjay Dutt was then seen as a child artist in the film.
While everyone associated with the remake talks about it being their tribute to the original and people associated with it – right from Amitabh Bachchan to writers Salim and Javed to Ajit, Priyanka Chopra said Zanjeer is her tribute to Jaya Bachchan. "Since Jayaji played a chaku-churi wali street girl in the original, in my first scene in Zanjeer I too use a knife and threaten goondas who chase me. The new Mala is totally different."
While the original Sher Khan – Pran left us this year for heavenly abode, the new Sher Khan – Sanjay Dutt unfortunately wouldn't be able to watch the remake as he's serving his jail sentence.
After the success of Prakash Mehra's Zanjeer, writer duo – Salim Khan and Javed Akhtar wanted the movie to be remade in English.
Not many of the present generation would know that the role portrayed by Amitabh Bachchan in Zanjeer was initially offered to Dev Anand, Dharmendra and Raj Kumar. But as luck would have it, they rejected it and upon Pran's recommendation, Mehra gave the role to Amitabh, and the rest they say is history.
In one of Prakash Mehra's interviews, he had said: "Zanjeer actually wasn't my film. The film was bought by Dharmendra from Salim-Javed. Dharmendra came to know that I was planning to make a film called Samadhi written by Pandit Mukhram Sharma. He liked the story idea and told me to exchange the script with that of Zanjeer.
There were no financiers and distributors for the Prakash Mehra movie as they didn't like the filmmaker settling for Amitabh Bachchan as his film's hero since Big B wasn't a known name then.
It took Ram Charan Teja eight months to say yes to Zanjeer.
While most of the film has been tweaked or altered to suit the modern time, Apoorva Lakhia has retained the iconic dialogue that made the star out of Amitabh Bachchan – Jab tak baithne ko na kahaa jaaye. One has to see how it eventually turns out forty years later between Ram and Sanjay!
Apoorva has introduced a new character called Day in his remake to be essayed by Atul Kulkarni. Ironically, his character is said to be modeled on the late senior crime reporter J Dey (from Mid Day) who reportedly got killed by Mumbai underworld.
In order to match up to the angry young man image and get into the action-packed avatar, Ram Charan had specially flown down a special trainer from Australia and worked out for almost three to four hours, day and night with him for his action scenes!