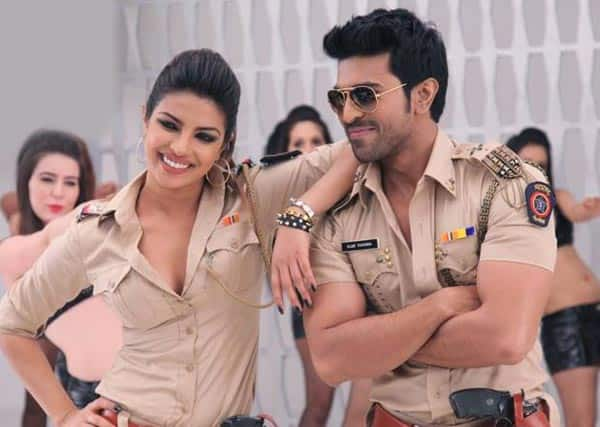 Music: Chirantan Bhatt, Anand Raj Anand and Meet Bros Anjan Ankit
Lyrics: Shabbir Ahmed, Ashraf Ali
Singers: Mika Singh, Sukhwinder Singh, Shreya Ghoshal, Mamta Sharma, Shadaab Sabri, Shweta Pandit, Talia Benson, Meet Bros Anjan Ankit, Wajhi Farooki, Palak Muchhal
Had filmmaker Prakash Mehra and the music composer Kalyanji (of the original Zanjeer) of the formidable composer duo Kalyanji-Anandji been alive, they would have cursed their existence after listening to the soundtrack of Apoorva Lakhia's Zanjeer 2.0, or whatever the title of the new film may be. Little did Mehra and Kalyanjibhai know that years after they left the world, people claiming to be music composers in the present generation would pay such a shabby tribute to their evergreen compositions.
The new Zanjeer has been riding on hype – Salim-Javed's legal battle with the new makers over royalty issues, Ram Charan Teja's debut vehicle and the Ram-Priyanka Chopra link-up, besides the fact that it's a 'sequel' to the 1973 musical hit. The film stars Ram Charan Teja as honest inspector Vijay (Amitabh Bachchan's role in the first film), Sanjay Dutt as Sher Khan (Pran), Prakash Raj as Teja (Ajit), Priyanka Chopra as Mala (Jaya Bhaduri) and Mahie Gill as Mona (Bindu). Though filmmaker Apoorva Lakhia has left no stone unturned to better his remake as far as the casting is concerned and has attempted to make it look grander, he failed to pick the best man for the music. If not better, music buffs expected a decent album from the new film.
The album kickstarts with the promotional track Mumbai ke hero, which sounds very like the title track of the Mahakshay Chakraborty starrer Enemmy (yes, we remember bad songs too)! Mika's yawn-inducing vocals ruin the already thanda number. Though Mika's considered the number one singer in the music world today – and we like him too – it's high time the prolific singer emerged from his 'yawning' mode and presented something new to his fans. We wonder how this track is going to help the film in any way.
A hugely hyped song is Pinky, sung by Mamta Sharma and featuring Priyanka Chopra; it draws heavy inspiration from Marathi folk music. The desi lyrics ably support the raw gawti background. Sharma returns to what she's known to do best – an item number, but this time neither the song nor the singer is any great shakes! Still, this one's going to stick with its fans and will be played at this year's Ganeshotsav and Navratri garbas.
Sung by Wajhi Farooki and Palak Muchhal and penned by Manoj Yadav, Lamha tera mera is just blah, but Palak's voice is promising. On first hearing, her voice sounds similar to Shreya Ghoshal's.
The qawwali Khochey Pathan ki zubaan is the best in this otherwise mediocre album. Sukhwinder Singh has done a good job as always in revisiting the original, Yaari hai imaan mera – crooned by legendary singer Manna Dey. Knowing he certainly cannot replicate the magic of the first, Singh has tried to add his own twist and charm, which we like. It's left to be seen whether the song is visually appealing too.
Ask any music lover and they'll bet the club number Kaatilana is an exact replica of Diljalo ka dil jalake featuring Bindu at her dance best. Still, Kaatilana is a simple, energetic dance number. Shweta Pandit and Meet Bros Anjan Ankit try to revisit the magic created by composers Kalyanji-Anandji and singer Asha Bhonsle. Here, Diljalo ka dil jalake is replaced by Zindagi mein zindagi ka… le maza, le le le mazaa… The remix version is just okay.
We guess the song Shakeela banoo marks Priyanka Chopra's entry into the film just like the Jaya Bhaduri song Chakku churiya tez kara lo did in the original, 'coz it starts with a similar harmonium solo. Shreya Ghoshal once again steps off the beaten path with Manoj Yadav's lyrics: Dil ki shishay kholke ishq ka ittar udaaya, sabki nigaahon mein pit ho gayi, Shakeela banoo hit ho gayi, ho gayi. Composer Anand Raj Anand returns after a long sabbatical to deliver a character-driven track.
The soundtrack of the new Zanjeer is hardly a good way to aim to better the music of the first film, but we wait to see the songs in context. Any improvement would be a good thing!
Rating:
out of 5
Reviewed by Dhiren Trivedi
* Poor
** Average
*** Good
**** Very good
***** Excellent