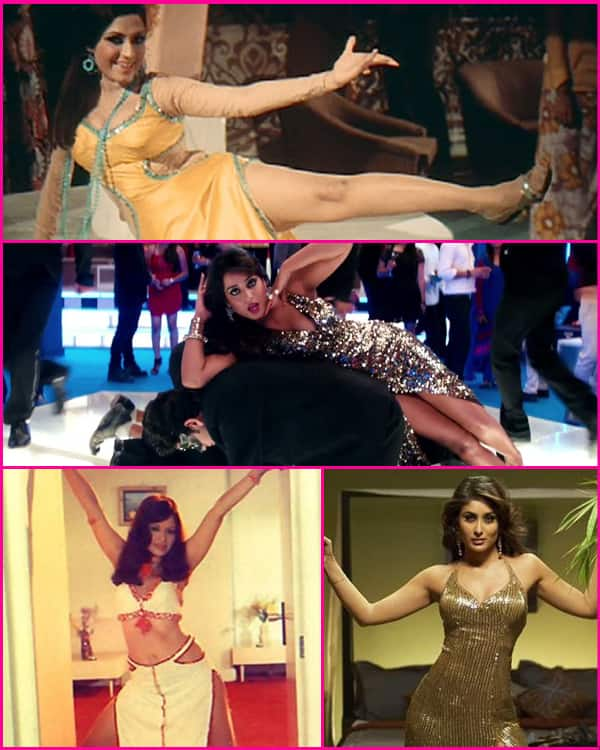 The latest song from Zanjeer's remake has created quite a stir in our minds. We've been wondering how well can Ram Charan, Priyanka and Mahie fit into the shoes of actors like Big B, Jaya Bachchan and Bindu
Mahiee Gill reprises Bindu's role as Mona Darling in the remake of Zanjeer. In the original film, Bindu was seen shaking a leg in a yellow outfit with high-cut slits, flaunting her legs in the song Dil jalon ka dil jala kar. In Kaatilana from the upcoming Zanjeer, Mahie is seen sporting a glitzy outfit with the high-cut slit even higher. Both the songs are club numbers and have catchy tunes.
What more, Mahiee's dance is choreographed with the same effect of sensuousness as Bindu's. However, the kinda energy with which Bindu dances is not visible in Mahie's number. Mahie has seductive eyes but that's about it. Compared to Bindu, her seductive act is just not convincing… Yes, Mahiee takes our breath away with her look in the song but she can't be Bindu, right?
In the past, Kareena Kapoor too had tried doing a Helen in the song Yeh mera dil from Don and critics had a field day. While Helen's act was clearly that of seduction, Bebo's act came out more like desperation. Kareena's Yeh Mera Dil number was disastrous, right from the outfit to the dance moves, which were nowhere close to captivating or seductive. At least we can say, Mahie is way better that Kareena was in reprising the role played by a senior actor! Mahie's hot curves, enticing eyes and attractive dance moves are worth praising… but only if we don't draw comparison with the Mona Darling from the original Zanjeer!
While we have no doubt that Kareena and Mahie are comfortable in their own shoes, we cannot say the same when they've tried reprising the roles played by Helen and Bindu… The yesteryears' actors' have created their own place in our hearts with their performances which is why it's difficult to accept other actors trying to re-do their acts… Don't you agree? With numerous films being remade, do you think the present day actors can actually replace the yesteryears' actors' characters set in our mind?