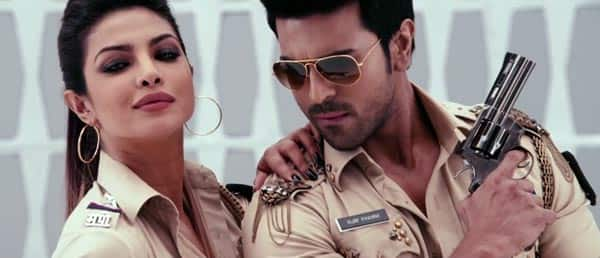 The shady choreography and Mika's yawn-inducing vocals ruin the latest dance number from Apoorva Lakhia's remake of the original 1973 blockbuster
Just because the Ram Charan Teja-Sanjay Dutt-Priyanka Chopra starrer Zanjeer is a remake the Amitabh Bachchan movie that made the angry young man a superstar, director Apoorva Lakhia seems to have thought of incorporating iconic lines from the original in this new song – 'Main aa gaya hoon Teja (played by Ajit), Main tumhe yeh batane aaya hu ke main tumhe khatm kar dunga. Aur yeh mera waada raha ke main tumhari zindagi mita dunga' – just for the heck of it. The video starts with Ram battling with goons and mouthing these lines, as the song is played in the background.
Priyanka Chopra, dressed in a police uniform (look at those short shorts!) and aviators has said some cheesy lines, pointing at Vijay aka Ram – 'Oh My God, is that your gun? Can I hold it?' Ewww! Considering that this one is supposed to be a serious action flick, we were quite surprised to see Ram and PC doing Michael Jackson-ishtyle steps dressed in police uniform! So terribly creative, no? So terribly innovative, no? So terribly…terrible, no!
The music is also tacky and forced. And were it not for Big B's memorable lines, we could not have said that this one is was meant as a tribute to the legend and his super-successful film. On this count Mumbai ke hero song is a big fat zero! We wonder how this uninspiring track is going to help the film in any way. Check out the video and tell us if you agree with us…
[jwplayer mediaid="251897″]