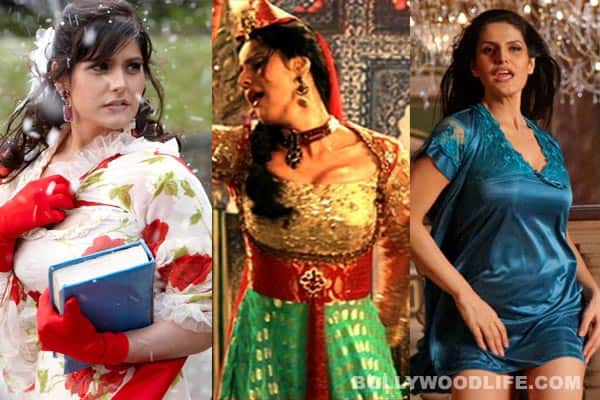 In a recent poll, the actor was voted the hottest amongst her Housefull 2 co-stars
When Zareen Khan made her debut in Salman Khan's Veer, she received a lot of criticism for being on the heavier side. She defended herself saying that since Veer was a period film, the concept of size-zero didn't exist back then. While some bought her argument, most of her peers continued to crack jokes at her expense. Thanks to her striking resemblance to Katrina Kaif, some of her nastier contemporaries began calling her 'Fatrina'.
For a very long time she remained out of work and though she was being touted Sallu's current love interest around that time, she didn't find many takers. Things changed after the 'Character dheela hai' song got turned down by most of the top league ladies. The lyrics of the song didn't go down well with the girls so the 'blockbuster' Khan decided to go for Zareen. She agreed to do the song and it went on to become one of Sallu's most popular songs.
Thanks to the popularity of that number, Zareen bagged a role in Sajid Khan's multi-starrer, Housefull 2. Though the critics brought the film down, the audience made it a runaway hit. Subsequently an online poll was conducted to find out, who among the Housefull 2 girls, Asin Thottumkal, Jacqueline Fernandez, Shazahn Padamsee and Zareen were the hottest. Much to our surprise it was Zareen who topped the poll.
There could be two reasons for this: either people have started appreciating curvy heroines after the success of Kareena Kapoor's 'Chammak challo' and Vidya Balan's The Dirty Picture or Zareen has managed to get into better shape. While some people still continue to debate if the Veer actor has really lost the extra kilos, Zareen maintains that she has shed a considerable amount of weight after Veer. And we wonder how much of the credit for her weight loss goes to the 'Dhinkachika' dude. Do you really think Zareen has gone from fatty to hottie? Let us know.
ALSO READ: Shreyas Talpade: Sajid Khan wants all his characters to be at their loudest