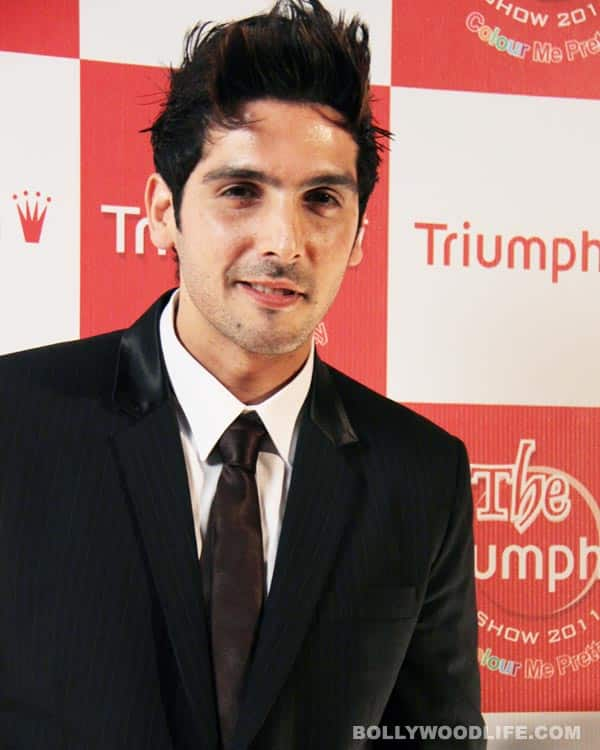 Lots happened on the sets of Tezz, a movie that features Zayed Khan, Anil Kapoor, Ajay Devgn, Sameera Reddy and Kangna Ranaut. And here's what Zayed has to say about it
Shooting for Tezz has been an eventful ride for actor-producer Zayed Khan. From experiencing Priyadarshan's eccentricities, and making awkward conversations with South-superstar Mohanlal to suffering from a ligament injury while learning Parkour, Zayed talks about what he learned on the sets his upcoming action movie
What's your role in Tezz?
I am only doing action in this movie. When I heard that Priyan sir (Priyadarshan) is coming back to action I decided I have to do it. Then Priyan sir explained to me that most of this movie is made in a non-linear pattern. Many things keep unfolding. So I feel this character is very difficult to explain because it's a mission he are trying to accomplish. Only at the end will you come to know whether the character is right or wrong.
This is the first time you are working with Priyan sir. How was the experience?
Priyan sir is a task master. He is a completely old school director who has constantly evolved as a person and as a director with his films. Of course, he is very demanding. Working with Priyan sir is like being in Hell's Kitchen. He doesn't like excuses. When you are on the set and cannot come out with your goods he gets disinterested in your performance. He will cancel the shooting and tell you to first go find yourself and come back only when ready. That is very unnerving at times. But it brings the best out in you.
Can you narrate a particular incident?
There was a time when he told Anil (Kapoor), "I need you to look tired. Go take a jog and come." Anil, who is very professional, did as he was told. When he came back to take the shot Priyan sir said, "Pack-up!" He is eccentric. But I feel that even if you have ten stars sitting and waiting for a shot, none of them mind waiting because they know that Priyadarshan takes time, and when he does, he crafts the thing so well. The kind of expectations he has from his actors, everyone has to come up to them.
Did he give you a tough time too?
Once I had to do this crying sequence. Suddenly Priyan sir asked, "Zayed you are ready?" I was shocked. I asked if he could give me some time. "No time!" he said and ordered, "Just start!" I didn't know what got me. "Can I use glycerine?" I asked. "No glycerine!" Priyan sir replied. I was so afraid of not doing it well that I tried really hard thinking, 'this is the end of my career'. But I guess the scene came out pretty well at the end of the day.
How is Tezz different from other action movies?
I can say that the elements you get in an action movie boosts it. In Bollywood especially, it gives newness to the movie. But then action in this film is not just maara-maari, hand to hand combat or gun battle, it's in the treatment of the film. There is a lot of drama in Tezz; a lot of intense sequences that build the back story. And then Priyan sir just takes it to the next level. I remember him telling me he wants to make an action film similar to Mission Impossible. And I think he has really achieved it. The movie is looking so international!
What was the most challenging aspect of this action movie?
In Tezz it's Parkour. It was very challenging. I have learnt a very new art form in this movie. Of course it's a different thing that I tore my ligament after doing a scene and hated everyone on the sets.
This was the first time you've shared screen space with Mohanlal. How was it?
Mohanlal is the master of his own universe. I was very intimidated by him. So for the first couple of days we just kept saying 'hi!' to each other. I even asked Ajay if he said anything more than 'hi!' Gradually we got down to sitting and chatting.
Once he was in the get-up of a policeman. And no shots were being taken. But he never left his gun, outfit or character. I asked him, "You really don't get bored that way, do you?" He said, "No. I enjoy the time. I enjoy whatever time it gives me. How many people have the privilege of having this time to themselves? And get paid for it!" I learned something new that day. He is a great philosopher. He can make you laugh with a very poker faced humour. At the end of it I realised that he was a fantastic guy.
Are you satisfied with the way your career is going?
I don't think anyone is satisfied with anything nowadays. Only thing people are satisfied with is growth and evolution. If you ask a guy like Shahrukh Khan he will say, "No! I want more." Who doesn't? I think the idea is some people aggressively sell themselves out there, some people have different approach to it. It depends. I am not satisfied, not yet. Picture abhi baaki hai.
ALSO READ:
Kangna Ranaut goes nude for Maxim