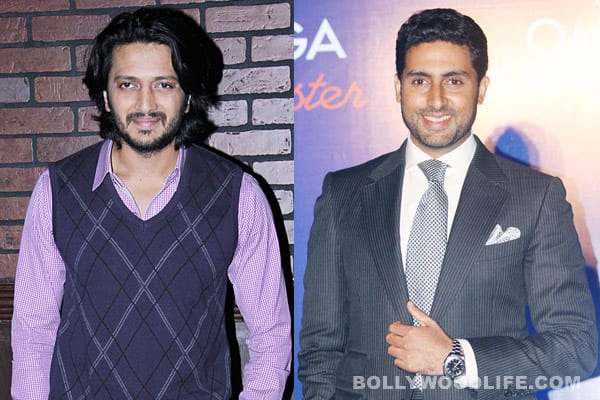 And that actually makes us wonder if another night laced with mush-between-males awaits us…
Looks like romance between alpha-males is the 'in' thing as far as glitzy award nights are concerned. After Shahrukh Khan-Ranbir Kapoor hosted the 57th Filmfare Awards, now we have Abhishek Bachchan-Riteish Deshmukh (ooops! sowiie John Abraham) stepping up as hosts for Zee Cine Awards 2013.
Talking about the ceremony, Abhishek, who will be hosting an awards' show for the first time, said, "I'm going to be hosting the show along with my friend and brother, Riteish Deshmukh this time. After nearly 15 years, Zee Cine Awards is returning to Mumbai and our effort will be to make it entertaining for the audiences worldwide. We make films for our audiences. Without their love and support we are truly nothing." Awww! We love you too, AB Jr!
And while Riteish echoed his 'dear friend and brother's' sentiments, he also vouched for Ranbir Kapoor as the Best Actor for Barfi!. Hmmm, do you agree with him, readers?
What's more, the awards ceremony will witness performances of celebs like Shahrukh Khan, Anushka Sharma, Katrina Kaif, Deepika Padukone and Ayushmann Khurrana. So are you ready for the big night, peeps?
Stay clued in for more updates on ZCA 2013, and yeah, don't forget to share your take on Abhishek and Riteish's chemistry!