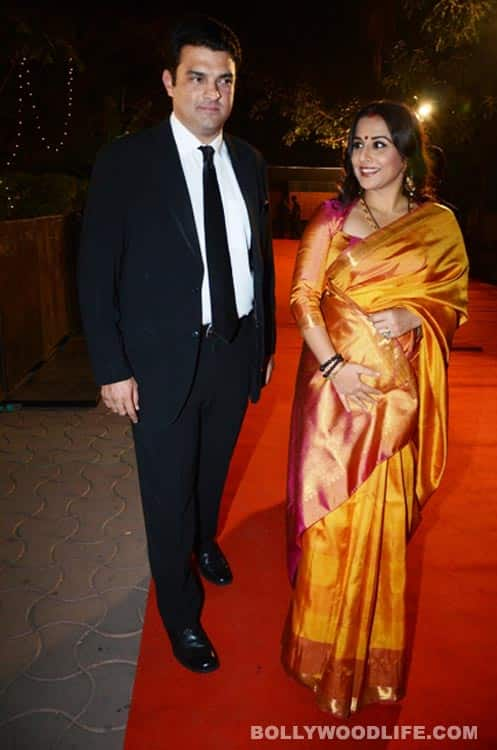 skip advertisement
The newlywed Kahaani actor expressed her desire to get pregnant
The Zee Cine Awards 2013, held in Mumbai recently, brought out some family secrets – but of the happy kind! Actor Vidya Balan was glowing, as she posed with her brand new husband Siddharth Roy Kapur. So much so that her glow was mistaken for being a pregnant woman's radiant charm. And emcees Abhishek Bachchan and Riteish Deshmukh wasted no time joking about it.
Riteish quipped, "It's very unfortunate that before Siddharth, Sujoy (Ghosh) had got Vidya pregnant!" The host was, of course, talking about Vidya's pregnant protagonist in Ghosh's Kahaani.
Vidya played along, as she said, "Getting pregnant has always worked for me. It worked for me in Paa and now in Kahaani." She quickly added, giving a hint to her dear hubby, "Maybe this is a cue for you Sid." Aw! It's about time, shall we say?
Meanwhile, superstar Shahrukh Khan, who was on stage with Vidya, added his own bit to the proceedings. He said, "It's strange Vidya, that you should be saying this just after hugging me!"
Vidya was blushing, of course, with two SRKs by her side – Shahrukh Khan and Siddharth Roy Kapur. But we hope the more important SRK in her life gets her hints about having a baby!
To catch more such fun moments, don't forget to watch the Zee Cine Awards 2013 on Zee TV this Sunday, January 20 at 8pm!
SEE PICS BELOW

Photos: Zee TV