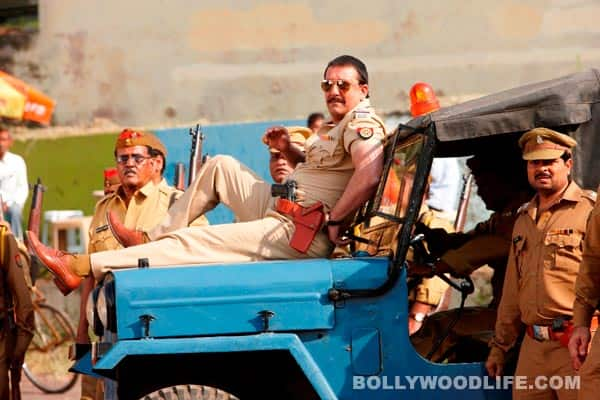 Filmmaker Anand Kumar's debut multi-starrer flick is way beyond criticism of any kind and mind-numbing torture from opening scene to end credits…
Zila Ghaziabad begins with a sequence in which a passenger train is robbed at Ghaziabad junction by a gang of bandits headed by Mahendra Fauji (Arshad Warsi). This calls for celebration in the form of the title track – Zila Ghaziabad, similar to Salman Khan's Wanted and Dabangg, or even Akshay Kumar's Khiladi 786.
The movie narrates the real-life story of a gang war that took place in the '90s and involved two powerful groups, one led by Satbir Gujjar (Vivek Oberoi) and the other by Mahendra Fauji. In the film, Fauji is the right-hand henchman of the state's political figure 'Chairman', played by Paresh Rawal. Satbir, a school teacher by profession, is full of idealistic views that the Chairman favours not just because he's educated, but also coz' Satbir is his would-be son-in-law. When the Chairman refuses to cough up money for the marriage of Fauji's sister, his greedy brother-in-law Fakira (Sunil Grover) takes the advantage of the situation and provokes Fauji against Satbir. The quarrel takes shape as gang rivalry and the first victim is Satbir's elder brother Karamveer (Chandrachur Singh), an army officer who is killed by Fauji.
Soon this rivalry turns into a big revolt and Satbir and Fauji are after each other's blood. Things get out of hand to such extremes that the state authorities decide to hand over Ghaziabad's security to a cop who's considered to be more deadly, ruthless and cunning than both gang-leaders, according to his own department's senior officers. Enters cop Pritam Singh (Sanjay Dutt), who plays mind games with the two warring gangs, pitting them against each other. Fauji joins hands with Chairman's arch rival Rashid (Ravi Kishan) to kill Satbir. From here on the story unfolds with the elements of suspicion, betrayal, greed and politics mixed together, and unveils lots of action, thrills, bloodshed and violence in the 2 hour 20 minute-long movie.
Zila Ghaziabad fails on most counts of filmmaking. It is a bad example of screenplay, characterisation and casting. It is almost irritating to see the way the characters behave – the desperation and angst not coming through correctly or convincingly. The background music does not help and neither do the songs (added for reasons best known to the makers), which if omitted could easily have saved viewers 20 minutes of pain.
With such huge issues, even the sincere efforts of actors like Sanjay Dutt, Arshad Warsi and Vivek Oberoi go waste, as most of the scenes and the intendedly serious dialogue evoke only laughter through the cinema hall. The actors involved look as if they have accidentally arrived at the wrong set. The lack of effort by the newbie director shows – any careful director would pay attention to the names of news channels and their logos on microphones instead of writing a name on a label by hand and colouring it in with an ordinary sketch-pen! Other small issues grate – Ashutosh Rana's car has the number plate MH-01, which is a Mumbai number; odd, considering the vehicle belongs to Uttar Pradesh. There are enough such examples of the lack of detailing through the film.
The predictable storyline adds to the agony of the watching movie experience. The ordeal that you go through proliferates with never-seen-before action sequences that are hilarious, disgraceful acting, a weak screenplay and poor direction. One scene has Sanjay Dutt hanging in the air and shooting the goons – you may have seen this in the promo. And as the mess goes on around him, he prefers to chill out in his police station occasionally humming songs like Dekha hai pehli baar from Saajan and Tamma tamma loge from Thanedaar. Hmmm… so creative, no?
You can't miss the scene in which Satbir arrives at Fauji's adda to take revenge for his brother's death; he roars like a lion, jumps from a big rock and single-handedly battles about 20 men. Some scenes like this leave you holding your stomach with laughter, while some irritate you no end. Arshad Warsi as a short-tempered goon is decent in his performance. Ravi Kishan seems refreshing in his villainous avatar. Minissha Lamba's character tells Fauji that she is pregnant and chota Fauji will enter their lives soon, in the middle of all the bloodshed…and then she disappears. Seasoned actors like Paresh Rawal and Divya Dutta are sidelined in the already weak plot.
A request: please don't watch this film! Zila Ghaziabad is a movie that could leave you emotionally, intellectually and hilariously crippled. Such movies cannot be made, they just happen by accident. This one will enter the Movie Hall of Shame, to keep company with Ram Gopal Varma Ki Aag, David Dhawan's Rascals… need more names?
Rating:
out of 5
Reviewed by Dhiren Trivedi
* Poor
** Average
*** Good
**** Very good
***** Excellent