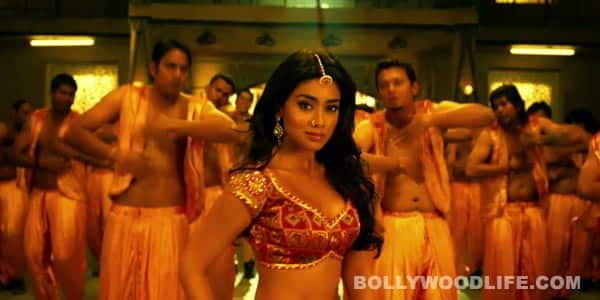 A brand new item song from the Sanjay Dutt-Arshad Warsi starrer is out. And here's what we think about it
Zila Ghaziabad has a rustic feel to it. And the same has been portrayed in this item number called Chhamiya No.1 where Shriya Saran as a cleavage-flaunting Chhamiya tries to tease and seduce Sanjay Dutt. But all through the song, we kept our eyes wide open trying to spot one itsy-bitsy move that could respectably be called 'seductive'. Unfortunately, we couldn't spot THE move.
But yeah, there was the clichéd outlining of the 'heart' – if you know what we mean – and a couple of wannabe dhak-dhak steps, all of which fell flat. Sigh!
As far as the song itself goes, nothing earth-shattering or even breathtakingly catchy about this number; just the usual stuff.
Chhamiya has been sung by Sunidhi Chauhan and Shabab Sabri, and composed by Bappa Lahiri.
So take a look at this one and tell us: Did you like this item number from Zila Ghaziabad?