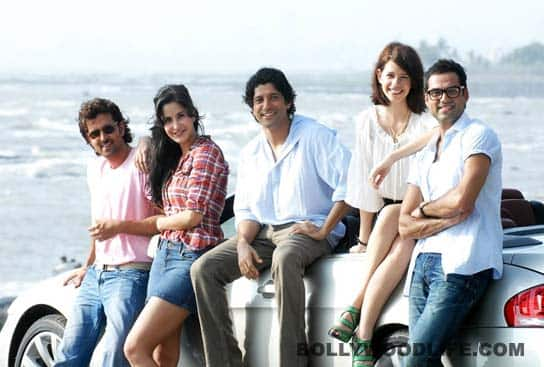 When you have an interesting mix of actors like Abhay Deol, Kalki Koechlin, Farhan Akhtar, Hrithik Roshan and Katrina Kaif, you expect a star-studded affair. But, just for a change, the stars come down to earth and hand out a slice-of-life experience….
At the core, Zindagi Na Milegi Dobara is a story about three childhood friends who set out on a road trip through Spain as an extended bachelor party for Kabir, set to get married (to fiancée Kalki) in two months. Kabir is a wealthy construction magnate, closet poet Imran works as a copywriter in an advertising agency in Delhi and Arjun is a hotshot financial trader in London. The three set off on a trip where each gets to choose an adventure sport and the other two have to participate.
The crux of the film is how the vacation becomes a life-changing experience for the trio. You already know this when you walk into the theatre, thanks to the promos that have been playing all over. But it's the amazing chemistry between the boys that keeps you hooked. Almost every scene before the interval has an element of humour in it – like when the three scare away a man in a public toilet, Farhan and Abhay remembering an old professor who added 'the' before every word, Farhan trying to flirt with Katrina…and so many more. The bonding and banter is identifiable and infectious; it will remind you of your own personal jokes with close friends. Plus, three hot men in the backdrop of some breathtaking locales in Spain – hey, what more would you want!
Well, there is more. Mind you, this is not Dil Chahta Hai, but definitely a more mature version of it. The journey involves overcoming external fears, but mainly speaks about letting go of perceptions, emotional baggage and, mainly, inner demons. While Farhan has issues with his father and Abhay with his fiancé, Hrithik has his obsession for money. After watching some adventure sports and the constant checking in and out of hotels in the first half, post-interval you become drawn into the unburdening of the emotional baggage each one of them carries. The film has a clear message: live life fully and freely, because you get this life just once. But in the second half, Zoya takes her own time justifying this concept, and in the process also gets a little predictable. You don't want someone to shove a point down your throat, right? This is the time when you want to zip past the drama and go straight to the finale. But once you sit through the amazing ending (a metaphor for the characters freeing themselves from those inner demons), you want to forgive and forget that tiny uninteresting portion.
All the actors have done a good job and a lot of credit goes to Zoya Akhtar's strong characterisation and storyline. Hrithik Roshan does justice to the stiff money-minded Londoner who learns to loosen up (though you are left wanting more from him). Abhay pulls in a strong and adorable performance. Kalki manages to bring to life the rich, possessive fiancée, though she doesn't get much scope to show off her talent. Zoya adds some newness to Katrina by giving her a bohemian role. But the director saves the best for brother Farhan. He has grown as an actor and is, in fact, the scene stealer on many occasions. He has the best lines and pulls off his scenes with ease – like when he is scared to jump out of the helicopter, or when he tries to woo a Spanish girl with a solo dance number, or when he meets his estranged father (played by Naseeruddin Shah) for the first time.
This is a film that stays real and creative within the constraints of the mainstream genre. I would identify it as the 'real' cool! All in all, a lovable film, with lovable characters. On a rainy day, get into adventure mode, pick a few good friends and walk into the theatre to catch this feel-good movie.