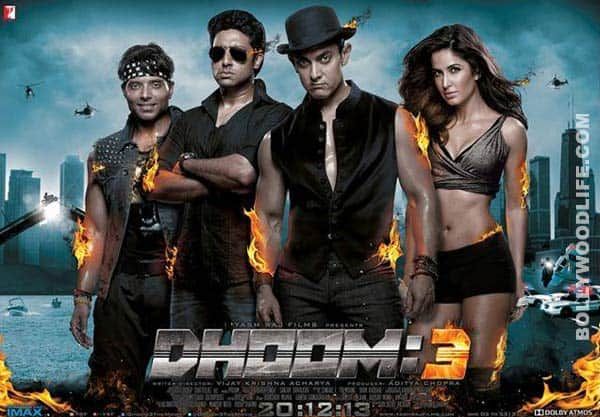 Aamir Khan and Katrina Kaif recently launched the D:3 official merchandise and technology products at YRF Studios including a broad array of licensed merchandise from a number of leading manufacturers
The D:3 licensing program, supported by Yash Raj Films Licensing (YRFL) comprises a wide assortment of products ranging from smartphones and tablets to motorcycle accessories that feature unique designs inspired by the movie. The current D:3 licensed products include a broad array of licensed merchandise from a number of leading manufacturers and the list never ends. Read on to know what's available in their kitty…
ICEX Electronics: ICE and YRF Licensing have come together to create history in the domain of film merchandising. ICE has created an innovative range of electronic gadgets inspired by the movie. D:3 is now the world's first ever film to have its tablet and other branded electronics range.
Mattel: For the first time ever, YRF and Mattel have inked a unique partnership for the upcoming blockbuster Dhoom:3. Fans of the franchise are in for a treat with unique D:3 inspired limited edition Barbie Collector Dolls of superstars  Aamir Khan and Katrina Kaif. Dhoom buffs can take home a piece of the action with the first-ever Hot Wheels die-cast replica of Sahir– The Clown Thief's signature bike in Dhoom:3. Also available are a range of racetrack sets which bring the film's stunts and action to life, in addition to a special set of Dhoom:3 UNO cards for game lovers. Completing Mattel's awesome line-up of D:3 products, is the first-ever Barbie Kids Apparel range inspired by this hugely anticipated sequel of the Dhoom franchise.
99 Games: The D:3 mobile game, capturing the action and intensity of the film and outstanding realistic graphics, puts the player in full control of his own D:3 super bike on the mean streets of Chicago. Having already achieved over one million downloads, the Dhoom:3 mobile game has quickly become one of the most successful digital games produced in India.
BollyXpress: Putting a bit of excitement into greeting cards, gift wrapping papers and calendars are these first-of-a-kind products, which feature D:3 music, vibration effects and fiber optic light technology, that will make the right impression for every occasion. D:3 greeting cards will also feature exclusive and special Good Wishes audio messages recorded by the stars from Dhoom:3.
Gulf Oil: A special consumer and trade promotion for Gulf Pride 4T Plus Bike Oils, supported by major retail displays will feature a Dhoom contest and a chance to win exciting D:3 merchandise.
CEAT: Zoom ahead in style with superior grip Dhoom:3 limited edition CEAT tyres.
Orosilber: Inspired by designs featured in D:3, is a hip line of fashion accessories for men which includes products like pendants, rings, wallets, bracelets, dog tags, belts, key chains, tie pins,cufflinks and more.
Collectabillia: The company's D:3 product line offers a range of fashion bags, sling bags, hats, USB sticks, hat magnets, caps, bandanas and other accessory products.
Classic Stripes: For those who want to drive in Dhoom style, Classic Stripes is offering a line of hot D:3 bike decals that transforms any bike into a D:3 lookalike bike.
Nightingale: Chic is the word that defines this collection of a premium and varied range of D:3 diaries and notebooks that feature graphics based on the movie.
Bombay Dyeing: For those looking to spice up the bedroom and bath, is a limited edition of D:3 branded bed linens, cushions and bath linens.
Diva'ni: A perfect accent to anyone's wardrobe are the colourful and trendy D:3 clown theme scarves.
Archies: This popular retailer is developing an exclusive range of D:3 inspired paper stationery products that includes photo albums, calendars, posters, autograph books and more.
LINE: D:3's official account and sticker for the LINE mobile application.
Steelbird: The perfect combination of safety and style define the company's line of D:3 inspired helmets for bikers.
Parksons: For those looking to spice up their game, try D:3 playing cards.
Vox Pop Clothing: D:3 inspired t-shirts for the youth looking to sport the style of Dhoom:3.