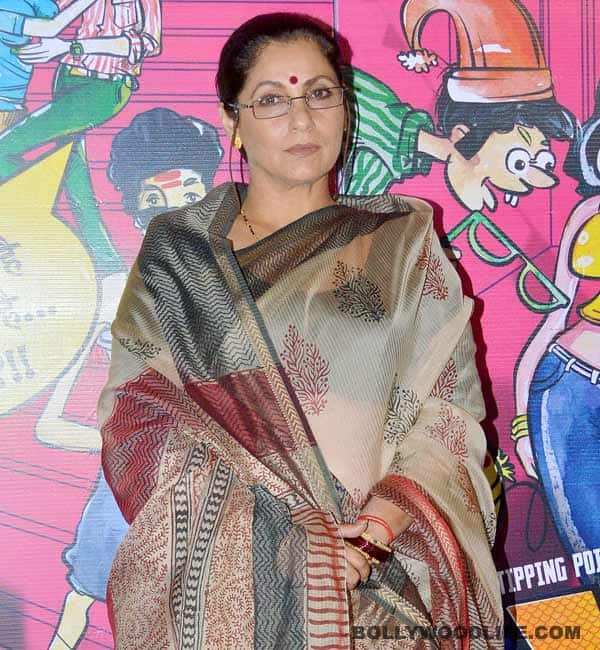 Twinkle Khanna's mother gets candid about her latest film, how life has changed after her superstar husband died last year and why she doesn't to write a book on her life
Veteran actress Dimple Kapadia plays a 60-plus grumpy woman in Gurmmeet Singh's What The Fish! and says she loves her character.
The National Award winning actress says when she heard the script of the fun-filled mysterious drama, she immediately fell for it. "It has many layers. I love my character in the film. I am sure I was right in accepting this film. At this stage, I am not looking to work just because I must. I don't need to. My life is full," said the 56-year-old.
"There has to be something inviting or something fun for me to give so much time to. How many films have I done in the last ten years? Not more than six to seven, I am sure. Though I am not counting," she added. She says people tell her that they miss her on the big screen, but she leads a hectic life.
"Look, I know people like you say you miss me on screen. That's very kind. But I have my own life, and very hectic and turbulent life. There are so many ups and downs," she said.
After her superstar-husband Rajesh Khanna died in July 2012, legal troubles over his property cropped up. The Bobby star says apart from that, a lot has happened in her life, but doesn't want anyone to tell her life's story through a book.
"Not just that. So much has happened in my life during the past six years. But a book on my life? No way! Every life is special. Everyone has problems. Life has to be a roller coaster ride. Otherwise, what's the point of living? Why should I make a song and dance about mine?" asks the mother of Twinkle and Rinke.
"I became a wife at 15 and was a mother of two at 18. So what? Lots of women marry young and become mothers at a young age. The only really special thing that happened to my life was that I married superstar Rajesh Khanna," she added.
She says the Anand superstar swept the entire nation off its feet, including her.