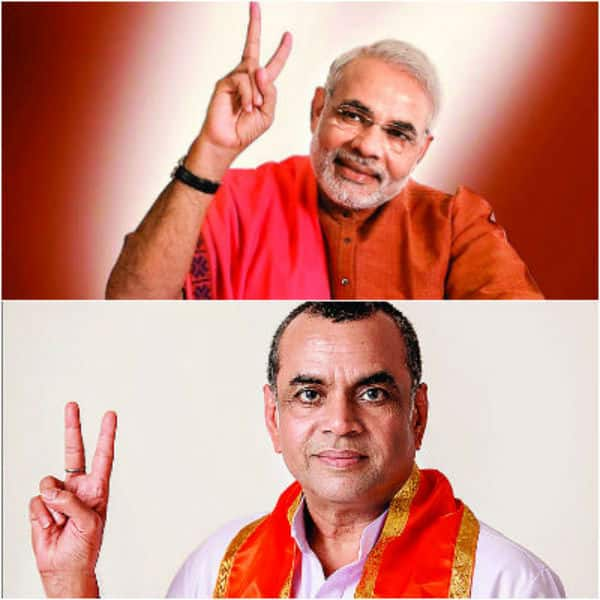 The bio-pic on Gujarat chief minister Narendra Modi's life directed by Rupesh Paul and produced by Mitesh Patel is on hold
The film will roll after the results. Obviously everyone is convinced that NaMo will be the next PM of the country. Word is that the film will make more sense as his journey from CM to PM. Paresh Rawal, who contested for a Lok Sabha seat from Ahmedabad (East) for the BJP, is playing the main lead and he even campaigned for Modi during the Gujarat state elections in 2012.
When quizzed about the film's progress Patel says, "We shot some scenes earlier this year but have now kept the film on hold. A lot of changes need to be made in the current political scenario. Paresh has been busy with his election campaign. But we have also kept the film on hold because if Mr Modi becomes the PM then a lot of changes in the script will have to be made. We will take a call on this after the election results. Major changes will need to be made in the script based around the elections also and its aftermath. I will take a call after I come back from Cannes."
Earlier the bio-pic was being shot at breakneck speed so it could be completed before the elections, as they wanted to release it during the elections to help Modi in his campaign as part of his image-building exercise. However, the producer denies this, "That's not true. I met Mr Modi recently and informed him of the current developments and he said if I release it, it's fine and if I can't, even that's fine. It was my decision to release the film during the elections. Mr Modi is larger than my film. One film won't make a difference in his political career," he smiles.
The film is the journey of Modi from a common man to the chief minister of Gujarat and was said to cost Rs 40 crore. Patel had even met Modi last year in Gandhinagar and got his approval for the film. "I will need to sit down with my scriptwriter, re-work the script and we will incorporate the changes accordingly," said Mitesh Patel, producer of the film.
STORY SOURCE: DNA