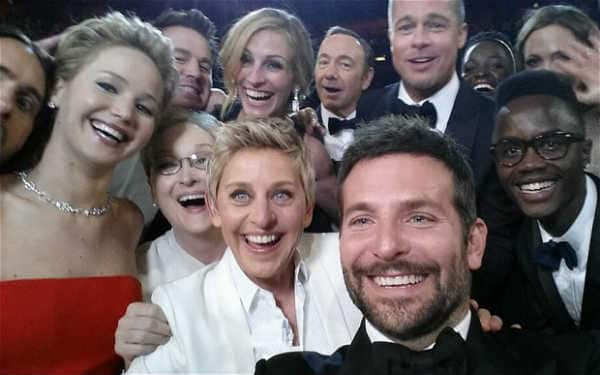 This is definitely the most starry selfie ever!
Ellen DeGeneres has broken President Barrack Obama's record for most Twitter retweets with her Oscar selfie, that features the likes of Bradley Cooper, Jennifer Lawrence, Brad Pitt, Julia Roberts, Meryl Streep and Kevin Spacey, in less than an hour. According to Deadline.com, the pic, which has been retweeted over 1 million times and has got over 720,000 favorites till now, also lead to the crash of the social networking site for a while. DeGeneres wrote, alongside the pic, that her selfie was the best photo ever.
Apart from the now world famous selfie, Ellen De Genres also proved to be one of the most entertaining and generous hosts that Hollywood has witnessed. As the host of the 86th Academy Awards, she surpassed every benchmark that the previous hosts had set with her opening monologue. She engaged the audience and made them giggle without making any crass jokes . Ellen had some interesting things to say about Meryl Streep, who has been nominated 18 times for an Oscar till now. "Meryl has been nominated for an Oscar a total of 18 times," she said, "It sounds good, but if you do the math, between dresses, hair, and makeup… Meryl can't afford to be nominated again. That's a lot of money," she poked fun at her.
That's not it Jared Leto and Jennifer Lawrence too had a hearty laughter as Ellen poked fun at them.