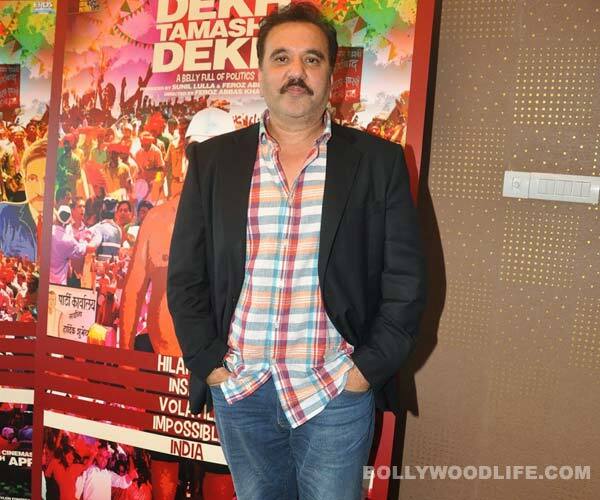 Read on to what filmmaker Feroz has to say about Dekh Tamasha Dekh
Inspired by true events, Feroz Abbas Khan's socio-political satire Dekh Tamasha Dekh, set for release in the middle of the general elections, was actually conceived years before the director made his debut with a critically acclaimed film on Gandhi.
"The incident in the film was narrated to me many years back by a retired police commissioner. And, that story just triggered my inner self. And, way before I made my first film, this story would always haunt me, ask me to adapt it for the screen. But, I never could until now," Feroz told in an interview.
The noted theatre personality said the completion of this film, therefore has taken a "large weight off his conscience".
"I am relieved that I could finally get it out of myself. It would constantly play at the back of my mind ever since I had heard it. Even, when I did my theatre, it would be working in the background, saying..'make this into a film'," he said.
Set in the mid 90s, amidst the backdrop of the 1993 Bombay riots, Feroz's second film after Gandhi My Father, cuts through the heart of Indian psyche, and questions the social and political paradigm shift in society and debates between religious identity and humanity of a citizen.
"The film is part documentary, part absurd drama, part satire that portrays the bureaucratic indifference and the changing moral core and values of media in the onslaught of commerce," he said.
Commenting on the current polls, the Tumhari Amrita fame theatre director said, "I hope the film will make people think this elections".
"Though I have chosen a subject from a real incident, but I have kept the grammar of cinematics over the language of theatre that I am more conversant with. But, through this film I have tried to tell a story as it happens in reality, and with complete honesty," the 54-year-old director said.
The Mumbai-born filmmaker said some scenes like the boy-girl scene were filmed in one shot because while shooting "I liked it that way, and asked the camera to keep rolling".
And, because, I did not want myself to be bound by the cinematic rules, and therefore the audience will see a lot of experimentation in the film, he said.