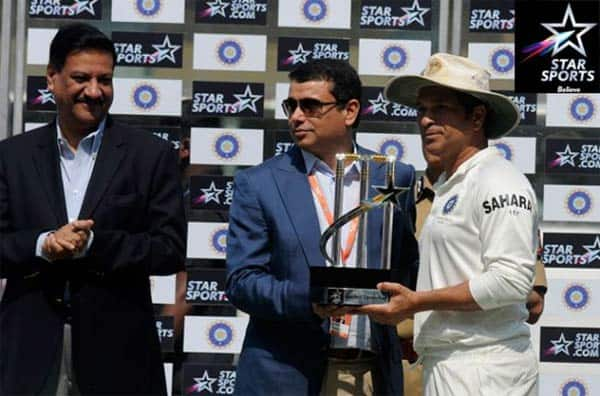 The just-retired cricketer has just been given Star India's first Believe award and the Bharat Ratna – doesn't anyone else – Dhyan Chand, for instance – deserve such honour?
Sachin Tendulkar was recently given a special honour….yes, another one. At the post match awards ceremony post India's thumping victory over the West Indies Uday Shankar, CEO of STAR India presented the retiring Master Blaster with the first Believe trophy. And not too long before that, hero worship of the cricketing genius reached new heights with the announcement of the Bharat Ratna being conferred on him. Even as we are in no way intending to disrespect Tendulkar's towering records, we do have a question that many have already asked: Is Sachin the only Indian sports star with an amazing record?
StarSports and ESPN keep talking about other sports being equally good, like hockey, badminton, chess, et al, but at the end of the day the award for the best sportsperson goes to a cricketing legend…again. Even the government's decision to honour Sachin's genius with the highest civilian award, the Bharat Ratna, has come in for a lot of flak from various sections of society who feel that Dhyan Chand was more suited to the salute. The Believe prize just puts more oil on that already-flaring fire.
Who else should be given the award? You tell us….