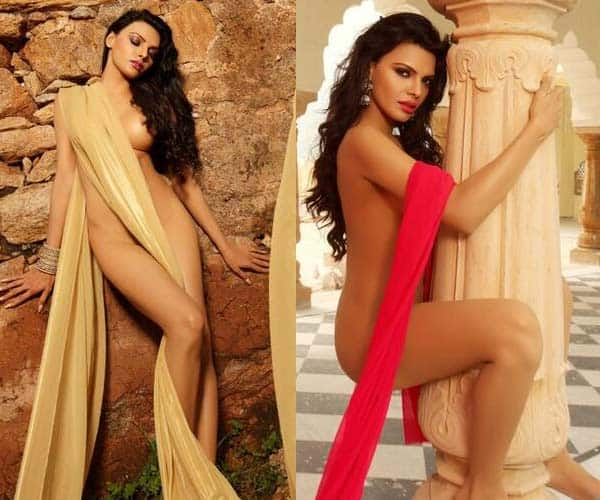 We know that the sex siren wears clothes to reveal her lady bits rather than to hide them. And now even the classic Indian drape is not spared as Sherlyn reinvents the saree in her unique way. Take a look!
There she goes again! Sherlyn Chopra can't stop herself from indulging in relentless skin show, no matter how many times we have questioned the babe's desperate antics to fetch her much needed eyeballs. She uses bikinis, towels, thongs and even jewellery to best effect to shift our otherwise unwavering focus. And that keeps her staying absolutely colourful on our very pink website. And hey, we are not exactly complaining, but sometimes Miss Chopra gives us sudden shocks (read: the creeps) with her look-at-me-now-or-else acts.
After dropping her clothes for her infamous Playboy stint, the desperate damsel is busy highlighting her body of … errr… work. She knows in her hyperactive head that she can't go completely blatantly topless in our seemingly conservative country. The best ploy therefore for Sherlyn is to play the hide-and-seek game and keep titillating her fans. Ms C uses sarees to do the business this time around.
With her naked behind pressed against a wall, Sherlyn uses a long golden satin drape to cover her modesty…sort of. She uses her hair to cover the rest. The drape flows from her torso to down there, making Sherlyn look the true star of her upcoming drama Kamastutra 3D. In another instance, Chopra jumped on a pillar in a palace and allowed the long red saree to flow freely, even though the drape was not doing its job very well of covering her up!
Going by these pictures, we wonder will Sherlyn ever learn to wear a saree without letting it…ummm….go!