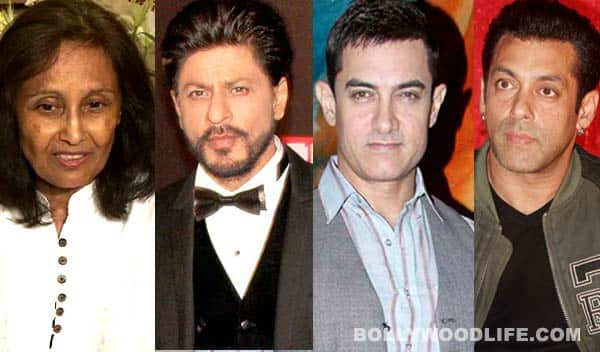 Jiah Khan's mother alleges her daughter was murdered, Nishabd actor's mother recently even conducted a sting operation on her own to reveal the truth
Rabiya Khan and Aditya Pancholi's war on Jiah Khan case is getting more and more complicated. Jiah's mother who sought SIT probe on this case has even appealed to Shahrukh Khan and Aamir Khan on her micro-blogging page. Is she hoping help and support from the Satyameva Jayate 2 host and the Happy New Year actor?  Rabiya sent out a message and marked Salman Khan too, who is launching her daughter's lover Suraj Pancholi in his film. That's not it, Jiah's mother who wanted US to intervene has marked her tweets to US President Barrack Obama and the FBI press office. Aditya and Rabiya were involved in a bitter war of words after the latter conducted a sting operation to prove that Jiah Khan's death was not a suicide, but a murder.
Aditya told in an interview, "I'll do everything in my power to protect my family from this vicious attack that we've been facing for one full year. This time Rabiya has gone too far. Instead of trying to destroy my son's life with completely nonsensical allegations, she (Rabiya) should focus on looking after her two remaining daughters. In her heart of hearts she knows my boy is completely innocent. But in her wild desire to seek compensation for her daughter's death she seems to have lost her mental equilibrium."
Rabiya has mentioned Aditya's threat in her in her tweets to the Khans:
@BeingSalmanKhan @imsrk_ @aamir_khan aditya says tell rabya to look after her remaking two daughters what does he mean?now thinks of other 2

— RABBIYA KHAN (@RABYAK) March 4, 2014
That's not it she even slammed Suraj Pancholi's parents Aditya and Zarina Wahab and has waged an open war on the social media.   
Aditya pancholi is collecting my tweets I doubt if he can read his son is fifth class fail This is a free propaganda not paid publicity

— RABBIYA KHAN (@RABYAK) March 4, 2014
Aditya pancholi is a chakka he is fighting with a victims mother some 1 tell him 2 wear green bangles while I wear trousers & sooraj saree

— RABBIYA KHAN (@RABYAK) March 4, 2014
Every1 knows Aditya associates with chakkas and swings both ways

— RABBIYA KHAN (@RABYAK) March 4, 2014
I wonder if Aditya knows what section 306 means? But his son has not revealed other charges that he has stampedTo applause his family flag

— RABBIYA KHAN (@RABYAK) March 4, 2014
Z has no Khabar about her son that he swings both ways he is impotent insane psychopath

— RABBIYA KHAN (@RABYAK) March 4, 2014
Every one knows father and son are evil but no one has hits to crucify them no wonder they are arrogant

— RABBIYA KHAN (@RABYAK) March 5, 2014
Zarina sooraj Aditya think of money and career they have learned hard way that money solved all problem they don't believe in God or prayer

— RABBIYA KHAN (@RABYAK) March 5, 2014
Well, looks like the Jiah Khan case mystery will take a while to be solved as both parties have locked horns and are willing to fight a battle in public.