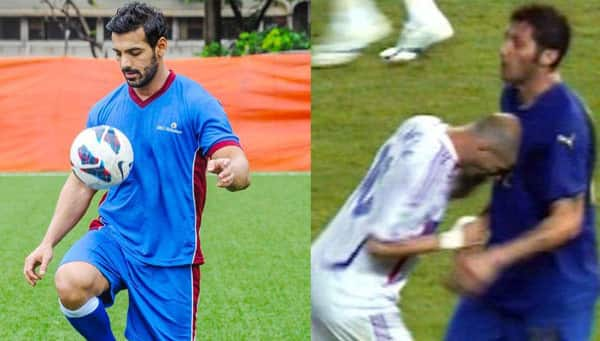 Bollywood hunk and football lover John Abraham claims that he was present at the stadium during one of the most historic moments in the archives of the sport taking place in the 2006 World Cup finale
Here are the excerpts from his interview…
Despite being a popular actor, you are synonymous with football in India. You're almost like a mascot of the game. How did you get hooked onto the sport?
I have been a football lover since childhood. I was barely 10 when I watched the World Cup in 1982. That's the year Paolo Rossi did the star turn as Italy were crowned champions. My dad made sure I watched football. I just got hooked onto the sport. Thereon, I watched Mexico 1986, Italia 1990… I have been following the World Cup for practically ever. And in 2006, I went to Berlin to watch the final between Italy and France.
I captained the football team in school and college, and played 'A' Division football. In fact, my coach John Alphonso still maintains that I could have played for the country. But, then, I had to choose between education and sport.
 Did your father's Malayali roots also contribute to your love for football?
My 'Mallu' roots actually pushed me to love football. Look, there are certain pockets in India where football is more popular than cricket. They are the Northeast, Bengal, Goa and Kerala. My father also made me watch the Olympics and each of the four Grand Slams. So, I have grown up playing and watching a lot of sport.
 What is it that fascinates you about football?
I think your school is a great leveller. You are not more famous because you are rich or poor. You are just more well-known because you are good at sport. Not even studies, but sport. I was very good at dribbling. I used to play either right-in or centre forward. The entire team was told, 'Pass the ball to John and he will take it from there'. In school you are a kid. You are at an impressionable age. I became popular because of football. That's why I was always attracted to football.
You know I had dreams of playing in the World Cup. That was my level of obsession. I grew up imagining myself do that bicycle-kick made famous by Pele. I used to tell myself that I must score the winning goal in that fashion. But of course, in my dream, there was no country. It was just me up against the world.
 India won the cricket World Cup in 1983. How did you resist the temptation of not taking up cricket?
I played cricket, too. And I enjoyed it. But I just loved football more. Look, football is a more active sport. On an average, a player runs about 9 km every game. It's amazing to just run around. In school, I was one of those students who would be covered with mud after the lunch break. Cricket never caught my fancy. It's always been football. And today, I am realising my dream through whatever little I am doing in football.
 So what's your take on this World Cup? Who do you think are the favourites?
Brazil, because they have got the home advantage. Well, you can never count out Spain. Argentina have a strong team. And I wouldn't count out Germany either. Germany have a young, solid team. If I am not mistake, the average age of the team is 23.8. Also, one of my most favourite players is German: Thomas Mueller. German football has changed over a period of time. Their football is more attacking and attractive now. The dark horses, I think, are Belgium. I think they will probably make the quarterfinals. But I think they could surprise us and go further. Look at their players: Adnan Januzaj, Romelu Lukaku, Eden Hazard, Vincent Kompany… Belgium didn't even have a World Cup team 10 years ago. And they started a youth programme. And look how the kids have just blossomed. It's still not late for India. We can still do it.
 Several European clubs are establishing academies in India. Do you think this is the time for India to finally embrace the beautiful game?
Look, I think it's a move in the right direction. Don't you think so? I mean it's very easy to criticise and say that these are small initiatives. But I am just excited by the fact that they are looking at India. Manchester United are here, and so are Liverpool, Manchester City and Atletico Madrid. And like Sepp Blatter, the FIFA president, says, 'India is a sleeping giant'.
Look at the way FIFA has given India the right to host the Under-17 World Cup in 2017. It's not like we fought for it. We are also set to host the Under-20 World Cup in 2019. And I am told the FIFA Club World Cup may happen in India. Imagine the kind of players that will fly down to India for that event. You will have the I-League champions take on the UEFA Champions League winners! It's a great opportunity. Indian football is on the cusp of development. Even this World Cup will help us generate interest in football.
 Who is your favourite player and why?
Apart from the usual suspects like Lionel Messi, who I think is the world's best player and Cristiano Ronaldo, who is also right up there, I have a liking for Neymar Jr. There is a lot of pressure on the little kid. But I have a feeling that he will deliver the goods for Brazil.
 What is your best World Cup moment?
Didn't I tell you I was there in the stadium when Zinedine Zidane headbutted Marco Materazzi in the 2006 final? Well, that's not my favourite moment (laughs).
 Did you realise that Zidane had actually headbutted him?
You know what, they don't show replays of a foul because it infuriates the spectators. So I just saw Materazzi lying down. Then, I saw Buffon run towards the linesman and scream at him. Then, I heard the crowd shrieking. Moments later, the referee showed Zidane the red card. The entire stadium — that's more than 69,000 people — were booing the Italian team every time they had the ball. The decibel level was earth-shattering.
Back to your question, and my favourite moment has to be Diego Maradona's one-man show in the 1986 World Cup. To me, he is the greatest player ever. He single-handedly decimated the opposition in that World Cup. The game against England was the clincher. Minutes after scoring the 'Hand of God' goal, he netted one for the ages. It was just superhuman. I am getting goosebumps talking about it.
I really want to meet Maradona. It's questionable whether he handled his brand well. Look, Pele is also God. But he had a great team to support him. Maradona only had Claudio Caniggia (in the 1990 World Cup). At the end of the day, people talk of Caniggia's goal because it ended Italy goalkeeper Walter Zenga's record of not conceding a goal for 517 minutes. I'd really like to see Maradona.
 Acting comes naturally to you. But how challenging will it be to do a show around the FIFA World Cup?
I am actually going to Hyderabad for Rocky Handsome. So, I will be flying back to Mumbai once or twice a week to be in the studio with Peter Crouch, Robbie Fowler, Peter Shilton, Mikael Silvestre, Ellyse Perry and, of course, my good friend Sunil Chhetri.
The point is I want to chat with them. I would love to watch the match with these greats. I want to see how they analyse the game. I want to stand on the feet board in the studio and talk strategy with Robbie Fowler, who is a Liverpool legend. Well, 4-4-2, 4-3-3… I am looking forward to that interaction.
 Would you like to make any predictions?
I would predict at this stage, but a Brazil vs Argentina would be a dream final.
 Are you so passionate about club football too?
I like Barcelona's style of play. I also enjoy watching the English Premier League. I love Liverpool. Another club I really support is Celtic FC. People in India don't watch the Scottish Premier League, but we must know that a fabled player called Mohammad Salim played for Celtic FC way back in 1936. Given that the school I went to was established by Scottish missionaries, I was always fascinated by the history of Celtic FC.
 Which manager fascinated you the most?
Louis van Gaal. Look, all eyes will be on him because he is set to take over from David Moyes at Manchester United. I watched The Netherlands play a friendly recently. That match wasn't exactly an indicator of things to come, but I like the Dutch team. Historically, though, they have big egos. So that could work against the team. I love the Dutch because my dad's closest friend was a Dutchman.
Apart from John Abraham, Sony SIX has roped in an impressive line-up of studio guests including Peter Crouch, Robbie Fowler, Peter Shilton, Mikael Silvestre, Ellyse Perry and Sunil Chhetri