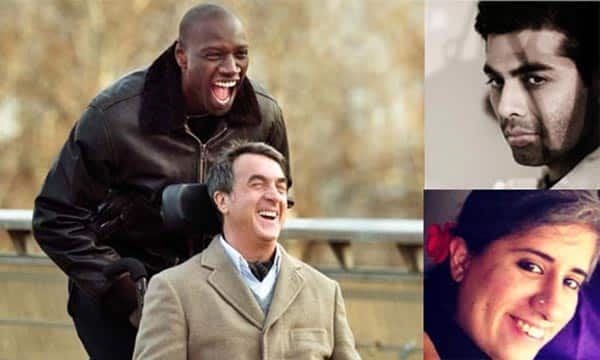 The Lunchbox team will collaborate again for the remake of a French film. Which one? Read on…
After The Lunchbox, Karan Johar and Guneet Monga have teamed up for the Indian remake of French comedy The Intouchables.
When contacted, Karan's spokesperson confirmed the news, saying, "It's true."
According to a website, Gaumont Film Company has moved forward to give a green signal to the international makeovers of the 2011 movie.
Yohann Comte, deputy head of sales at Gaumont, said, "From Gangs of Wasseypur to The Lunchbox, I've always believed that Guneet's company was by far the most creative and trustworthy producer when it comes to delivering crowd-pleasing Indian films with a strong identity that can play well at festivals and beyond."
Guneet said that she and Johar are in advanced talks with popular writers and directors to come on board.
"Both Karan and I are huge fans of the film. When Yohann Comte at Gaumont offered the rights of the film…I didn't blink an eye before saying yes. It is such a privilege to be making this in tandem with the world's first studio and the most renowned studio, Gaumont," Monga said.
Karan Johar and Parineeti Chopra happy with Hasee Toh Phasee response!
"The international performance of The Intouchables validates its commercial potential and we are confident that the film will do great business in India too," she added.
Johar, a self-proclaimed fan of The Intouchables, said, "When the prospect of being able to remake was brought to me, I jumped at the opportunity!"