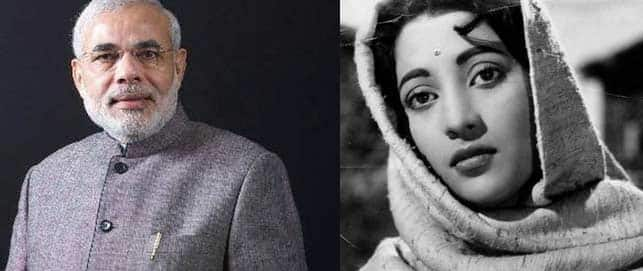 The reclusive screen goddess died at a Kolkata nursing home early Friday following a massive cardiac arrest. She was 82.
Suchitra Sen was a "fine actress" who made a "monumental contribution" to Indian cinema, the Bharatiya Janata Party's prime ministerial candidate, Narendra Modi, tweeted Friday, mourning the veteran's death.
"RIP Suchitra Sen. In her, we have lost a fine actress who leaves behind a monumental contribution to both Hindi and Bengali cinema," Modi posted on his Twitter page.
Known for power-packed performances in highly acclaimed Bengali films such as Deep Jwele Jaai and Uttar Falguni as well as Hindi movies Devdas, Bombai Ka Babu, Mamta and Aandhi, Suchitra was under treatment at the Belle Vue Clnic for the last 26 days following serious respiratory problems.
A widow, Suchitra leaves behind her daughter Moon Moon Sen and granddaughters Riya and Raima. All three followed in her footsteps to pursue a career in acting.