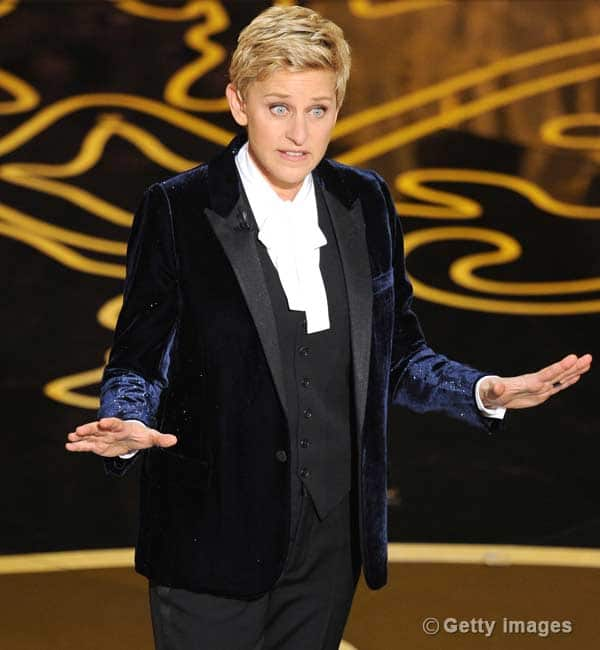 The second time host was on a row this time, and proved it that one does not need crass and below the belt humour to entertain the audience!
Now we all know that Ellen De Genres is one of the most entertaining and generous hosts that Hollywood has. This time as the host of the 86th Academy Awards, she surpassed every benchmark that the previous hosts had set with her opening monologue. She engaged the audience and made them giggle without making any crass jokes .
Of course, that does not mean that the whole evening was boring and was spent without any entertainment. Ellen had some interesting things to say about Meryl Streep, who has been nominated 18 times for an Oscar till now. "Meryl has been nominated for an Oscar a total of 18 times," she said, "It sounds good, but if you do the math, between dresses, hair, and makeup… Meryl can't afford to be nominated again. That's a lot of money," she poked fun at her.
Oscar winners list 2014: Gravity bags five awards in the technical category
About Jennifer, who had a face to the earth moment, minutes after she was walked the red carpet, Ellen said, "If you win tonight, I think we should bring you the Oscar." Finally to Jared Leto, De Genres had to say that he was the prettiest princess in the ball and that he "deals with the serious issue of people who have sex at rodeos," she quipped.
Now that was an interesting evening at the 86th Academy Awards, don't you think so BollywoodLifers? For more updates on Oscars 2014, keep watching this space!