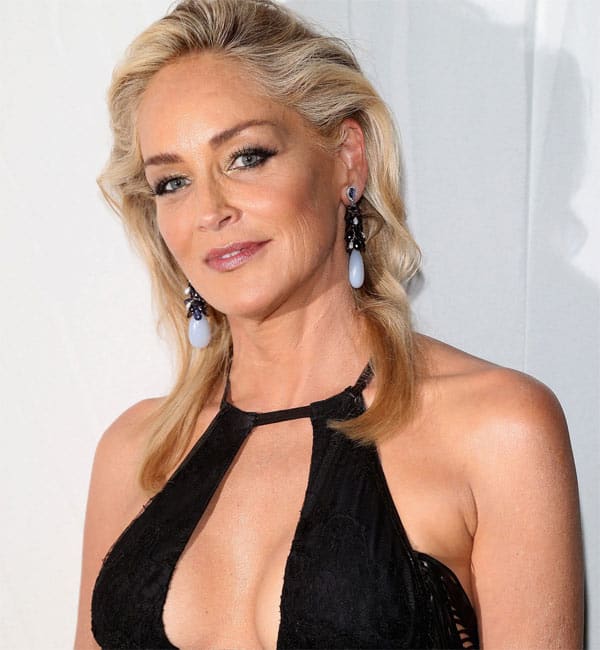 The 55-year-old actor will be in Mumbai for the amfAR India. Read on to know about her charity work, upcoming projects and much more…
She may be best known for her seductive role in the 1992 film Basic Instinct, but there's much more to Sharon Stone than her iconic part. She has continued to shine in the limelight not just for her svelte and ageless bod but also for her tireless efforts towards AIDS research and awareness. Sharon has been working with amfAR — the Foundation for AIDS Research — since 1995, and will continue to serve as a global fundraising chair until a safe and effective vaccine is developed.
The actor, who was recently presented with an award at the World Summit of Nobel Peace Laureates, will be hosting the amfAR INDIA fundraising gala with co-chairs Aishwarya Rai and Abhishek Bachchan on November 17 at the Taj Mahal Palace, Mumbai. The event that will include a performance by popstar Ke$ha will see amfAR Chairman Kenneth Cole, Anuj Gupta, and Rocky Malhotra among a host of other Indian celebrities and industrialists in attendance.
As this is the inaugural Indian amfAR gala, what do you feel is the need for such an event?
I feel it is the right time for a partnership between amfAR and India. The foundation gives 100 per cent of the money raised towards scientific research and particularly towards ongoing research for the paediatric sections. India has several properties that make it a very important partner. Firstly, it has an enormous population and an equally enormous HIV problem with children dying daily. It has become more of a family problem than a science problem; we need a shift in the consciousness to what is happening. I believe with this partnership we can work well together.
Your co-chairs for the event are Abhishek and Aishwarya Bachchan. Are you familiar with their work?
I am familiar with who they are and aware of their large filmography. Also, I've heard that they've used their fame to make the world a better place. I believe they're a couple of beauty and stamina.
Could you tell us a little about the auction that will be held?
I am not very sure about the final items that will be auctioned, but I can guarantee it will be lots of fun. Each time we have held the auction — whether in Cannes, Milan, Dubai or New York — it's been very enjoyable. It's extraordinary to see people having a good time doing something good.
As this is your first trip to India, is there anything particular you are looking forward to?
I'm excited about everything. I want to try Indian food, meet Indian people, check out Indian fashion, architecture, history — everything!
You recently received the Peace Summit award in Warsaw. How did it feel being presented with such an honour?
It was a big surprise actually when I got the call. I didn't even know the award existed, but the whole experience was amazing. I got to go to Warsaw and spend days with Nobel Peace Prize laureates who have achieved so much. I felt encouraged to continue moving forward in my work.
Despite your age you continue to look stunning and maintain a great physique, what's the secret to your youth?
The secret I believe is fitness. Fitness is an enormous part of happiness. Growing older should be a happy goal. It's up to you to choose how to grow old. I decided I wanted to grow like a dancer, even though I'm not. I want to be able to lift my own body, bend and move and mostly be free.
When will we see you on the big screen next?
I've already done Lovelace which has been released in the US and is coming to India soon. Aside from that there is Fading Gigolo and also a comedy film where I play Aphrodite.
Do you feel age is a factor when it comes to getting roles in Hollywood?
We portray life in films and in life there are people of every age. So, no I don't feel I'll be too old for a role.
You've worked with a number of renowned actors, any favourite co-stars?
Most of my co-stars are my favourites. I can't give any specific names but they all become a piece of my heart, they're like family to me.
Being a mother as well, how do you juggle your work priorities and still make time for your kids?
I think like all the other millions of women who are working. We just do it. Like everyone, you have to be organised and plan to be there when your kids come home from school. You need to schedule your day such that your kids are a priority.
Story Source: DNA