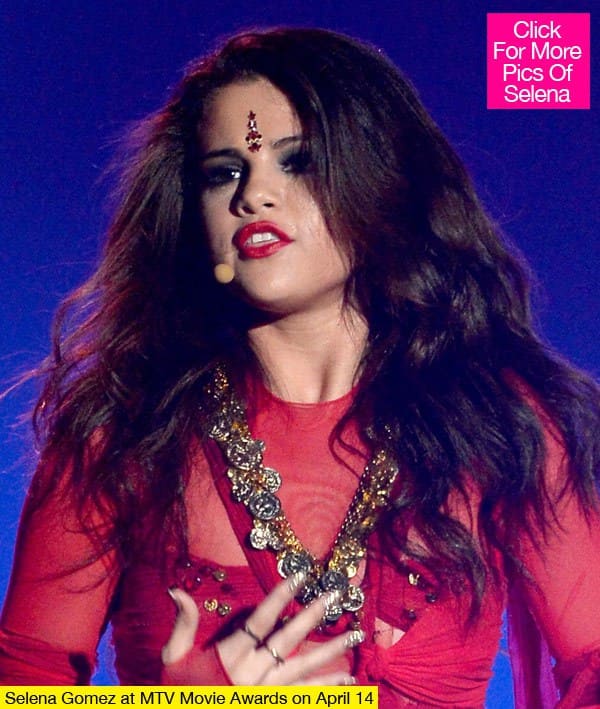 The Universal Society of Hinduism have slammed the young singer and demanded an apology from her. What for-we wonder at BollywoodLife!
Even if Indian porntoon Savita Bhabhi continues to indulge in daredevilry with a bindi prominently placed on her forehead and Sherlyn Chopra can make love with a bindi sparkling, singer Salena Gomes receives flak for being offensive for pepping up  her look with a humble bindi. Gomez performed at MTV awards and did some sexy dance steps and that was enough to rub the universal Society of Hinduism. How ridiculously idiotic is that?
Here are some Tweets slamming the 21 year old.
"HOLY WHAT THE F**K SELENA GOMEZ. LET'S TALK ABOUT SOME F**KING CULTURAL APPROPRIATION #NOTOKAY" wrote @RitaTherPita.
"selena gomez makes the horrible cultural appropriation surprisingly not-sexy" said @xstripes.
"Deal Selena Gomez the bindi is not just some fashion accessory you can throw on, cultural appropriation man" wrote @nat_dee.
"so did like no one think to tell selena gomez beforehand that her entire performance was eight kinds of super bad cultural appropriation????" said @diannamv4.
"Selena Gomez, take that bindi of your head, cultural appropriation is not cute. And neither is your singing." wrote @realanisha.